The Australian Football League (AFL) is the no.1 code Down Under and is a native sport to this country. The top-flight competition is played between 18 teams from most states in Australia, although the league is still largely made up of Victorian teams.
As a betting medium it is very popular with every major regulated bookie featuring extensive futures and match-day markets. Some of our favourite bookies for AFL betting are Sportsbet.com.au and BetEasy.com.au. International punters will find markets available at most online bookies.


Best ONLINE BOOKMAKERS
All Bookmakers
---
Popular betting markets on games include:
Head-to-head betting
Line or handicap betting
Margin Betting
Scorecast
Live betting
Player props and other exotics
You can have round bets on things like who will kick the most goals for the round, which team will have the highest winning margin and so forth.
There are also several futures markets for anything from the grand final winner to who will win the Coleman Medal for kicking the most goals on the season.
As we said, there really is something for everyone.
So pick up the phone, log on to your PC, lap top, Mac or tablet, iPhone, iPad, Android, etc and get punting.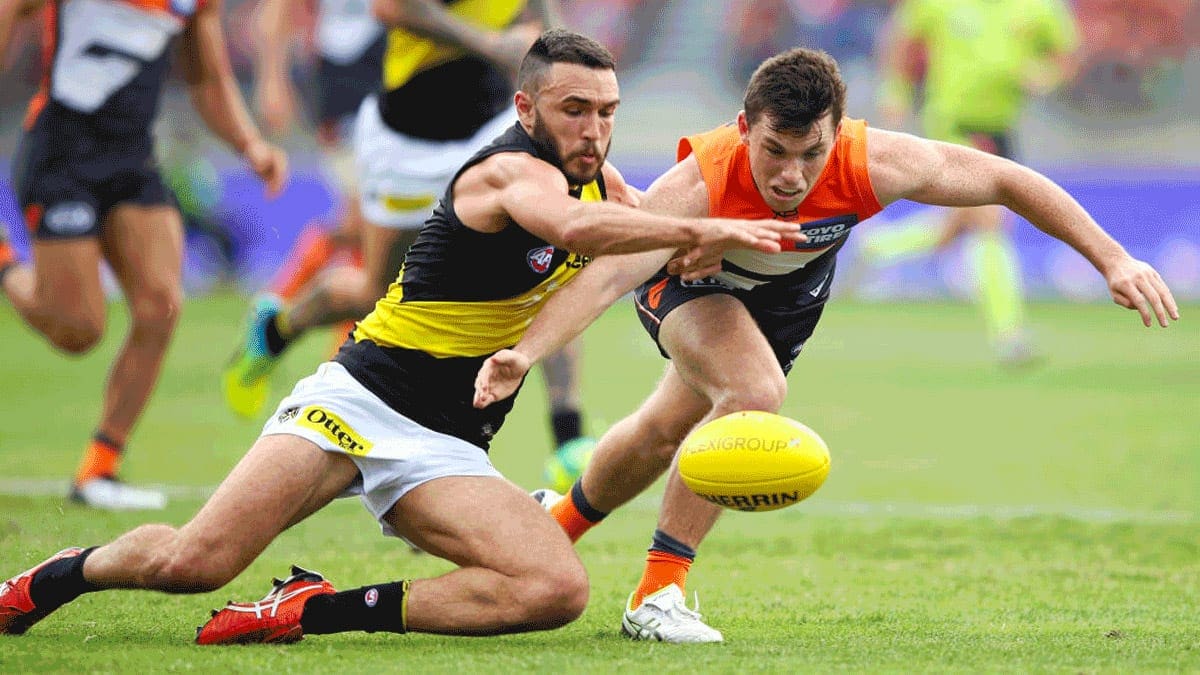 The 2019 AFL Grand Final between Richmond & GWS
---
AFL Futures markets
These are long term markets on your footy. The ones you set and forget.
Pick the winner of:
The AFL Grand Final.
Which two teams will make the Grand Final (quinella).
The Brownlow Medal for the game's best and fairest player.
The Coleman Medal for most goals on the season.
The Norm Smith Medal for best player in the grand final.
The Rising Star for best rookie/young player.
Making the top four and top eight, being minor premiers (finish on top)
Wooden spoon (finish on the bottom)
A club's total season wins, over and under.
You can place these bets at the start of the season or watch the odds change and do them mid year, end of year, right up until the day they are decided.
But remember, if you go early, this money is tied up all season long, so make sure you've budgeted for it.
If you want to bet on the grand final winner, you have to choose from the 18 teams who is going to win. Now there will always be the favourites at the pointy end, but remember, injuries can completely destroy a season!
Speaking of injuries, if you're going to have one of the player awards, say for the Brownlow, injuries can kill you!
Just ask punters who splurged on Gary Ablett Jr in 2014. The Son of God was an odds-on favourite to win the Chas at one point, but a season-ending shoulder injury in round 16 killed off his chances.
Some bookies paid money back to punters, but that's the luck of the draw.
---
Round betting on the AFL
These markets will usually go up on the Thursday before the AFL round and feature a chance to bet on the best performers of the weekend.
You can usually bet on:
Which of the 18 teams will have the highest score of the round.
Which will have the lowest score of the round.
Which will have the highest winning margin of the round.
Which player will kick the most goals of the round.
Which player will have the most disposals of the round.
---
Head-to-head betting on the AFL
Two teams go in to battle. One comes out a winner.
In head-to-head betting, you have to pick that victor.
Simple, right? Maybe sometimes. But anything can happen in the AFL.
Just ask punters who took the very skinny odds on Sydney to slaughter minnow Greater Western Sydney in round one of 2014. The Swans, with their bevy of stars, were as short at $1.01 before the match and GWS were double figure odds. In a scrappy match in deplorable conditions, the Giants somehow managed to run away winners, 15.9 (99) to the Swans' 9.13 (67). The match had a lightning strike in the middle of it that caused a delay, but did nothing to help the Swans come back. In 2013, Sydney beat the Giants by 129 points. Go figure.
You really need to look at form, who is playing and who is injured and past records to try and hunt up some upsets in head-to-head betting.

Despite the odds GWS managed an upset vs Sydney in R1 2014
---
Line or handicap betting
This is where it gets a little more interesting and where you can find better odds.
This is where you get a points spread – one team, the favourite, is given a points handicap, while the other, the outsider is given a points allowance of head start.
So the bookmaker will look at the game, decide the favourite and then allocate them a certain number of points that they have to win by in order for punters to collect their winnings.
The outsider can still lose, provided they lose by less than the number the bookmaker allocates to the them.
Here is what it looks like:
Carlton (+11.5) $1.91 vs. Richmond (-11.5) $1.91
The Bluebaggers are rated a $2.45 chance against the upstart Tigers at $1.53. That means Jack Reiwoldt, Trent Cotchin and company have to win by 12 points or more for punters to collect if they take the handicap. Conversely, if you bet on old man Chris Judd and the Blue boys, they can lose and you can still win, provided it's by 11 points or less. It basically means the bookie thinks the Tigers are 11.5 points better than the Blues.
So say the score is Carlton 50, Richmond 61, the Tigers have failed to cover their line, because 50 plus 11.5 is 61.5.
The bookies give an 0.5 value to ensure there is always a winner and a loser, there's nothing worse than finishing on an exact score and getting your cash bumped back.
A very popular emerging trend with many bookies is the pick your own line feature.
So, punters take control here. The bookies will offer a huge list of handicaps, with accompanying values and it's up to the punter to back it.
If you think the Tigers will smash the Blues by 45 points, you can get a market on that (over 44.5, $4.90). Similarly, if you don't think the Blues can hold the 11.5, but will still keep it within three goals, you could grab them at +17.5 for $1.72. See how the odds adjust. If you get more points head start, the odds will be lower. If you add more to the handicap, they will inflate.
Just to make the handicap betting even more complex, you'll find that there will be live bets available throughout the match, offered usually on each quarter.
While the $1.91 handicap is the stock one, some bookies also offer a $2.10 line, with the handicap being larger and the advantage being shorter. But they aren't even, so there is a chance no one wins.
For example, if Richmond are given a -18.5 point handicap at $2.10, the Blues leeway might only be +5.5. That means if the Tigers win by between six and 18 points, no one wins. The bookies are always looking for a way to add value to their own markets.
---
Margin Betting for Aussie Rules
In the AFL, the stock margin bet is over or under 39.5 points, but bookies run other margins as well.
It's kind of like handicapping, but it is just a set points figure and then the odds are adjusted to suit the chances of a team achieving it.
You have to pick, not only the winner, but whether they will either exceed, or fall short of the mark.
Using the Carlton vs. Richmond example, it'll look a little something like this:
Carlton under 39.5 $3.50 – over 39.5 $7
Richmond under 39.5 $2.20 – over 39.5 $3.80
Obviously they are hypothetical odds, but you have four options.
Say you pick Richmond to hammer the Blues and win by over 39.5, if they win by 39 – you lose. But if they win by 40 – you collect, and so on.
Other margin numbers include:
Team 1 or team 2 to win by under 24.5 or over 24.5 points
Team 1 or team 2 to win by 1 to 19 points, 20 to 39 points, 40 to 59 points or 60 plus points.
Team 1 or team 2 to win by 1 to 9 points, 10 to 19 points, 20 to 29 points and so on, all the way up to 100 plus points.
You can also tip to within two points (1 to 2, 3 to 4, etc) and the exact margin – Richmond to win by exactly 27 points.
The margin bet options are almost endless.


Featured casinos
---
Scorecast betting on the AFL
Seems a strange name for it, like they couldn't think of something that actually explains what it is, but scorecast betting involves picking the first goal scorer with a margin market.
So the punter has to pick who they will think will kick the first goal of the match and then also the final score from the match.
So for example, Hawthorn vs. Essendon.
Cyril Rioli to kick the first goal at $10 into Hawthorn to win by 40 to 49 points ($2). There are two ways it can happen. The bookie will either provide a quote for the exact bet, or it will multiply by each other, so the final odds for this one will be $20.
---
What is half time – full time double betting on the AFL?
Here's where you decide which team will lead the game at half time and which will do so at full time.

Essendon – Essendon
Essendon – Collingwood
Collingwood – Essendon
Collingwood – Collingwood
Draw at half time or full time

The shortest option will usually be the favourite to lead at both changes.
The same bet can be had for the quarter by quarter leader, there will obviously be more options, though – 16 to be exact, but the odds are inflated.

Essendon – Essendon – Essendon – Essendon
Essendon – Collingwood – Essendon – Essendon
Collingwood – Essendon – Collingwood – Collingwood

And so forth.
---
What is a total points over and under bet on the AFL?
This bet revolves around the total match score between Team 1 and Team 2.
Let's use West Coast and Carlton here and say the bookie has set the total match score at 168.5.
You can either bet over or under that figure.
If you go the unders, the two teams' scores have to add up to less than 168. Take the overs and it has to exceed that.
This bet is also often offered on quarter and half markets.
---
Having a tri bet on the AFL
This bet is a little fun.
It only has three options and the points total is always 15.5.
Team 1 to win by more than 15.5 points
Team 2 to win by more than 15.5 points.
Or either team to win by less than 15.5 points.
Self explanatory, but the third option gives you two bites of the cherry, and is really good when you can't split the two teams and think it will be a close one.
---
Doubles up on the AFL
The bookies love to offer doubles markets on the footy.
It obviously fills their coffers, but it also gives you a chance to get some juicier odds, provided you can pick the outcome of two facets of the game.
It will usually come in the form of a line – points double.
So, take Port Adelaide vs. Melbourne.
The line is going to be heavily handicapped on Port. Let's say -55.5. But Melbourne struggle to score, so the points total might only be 189.5.
The options will look a little like this:
Port Adelaide -55.5 and over 189.5
Port Adelaide -55.5 and under 189.5
Melbourne +55.5 and over 189.5
Melbourne +55.5 and under 189.5


Featured casinos
---
What are exotics and player props bets on the AFL?
Tired of head-to-heads and lines? Can't stand the Richmond or Collingwood, but you think Jack Reiwoldt is a gun?
Here's were things get interesting in AFL betting. There are hundreds of exotic options to bet on.
Here's a short list of the more popular ones:
First Scoring Play
Self explanatory.
What will the first scoring play of the match be and which team will score it?
Four options here. Team 1 to kick a goal, Team 1 to kick a behind, Team 2 to kick a goal, Team 2 to kick a behind.
First Team to Score
Similar to the above, but with only two options. Team 1 or Team 2. Goal or behind, you win.
First goal scorer
Decide which player will kick the first goal. You'll find the big forwards tend to be the men at shortest odds. Considering there are 44 players who are capable of kicking the first goal, the shorter odds will usually be around $5 to $8, for a guy like Jarryd Roughhead or Reiwoldt. But, you can find some serious value in the midfield. Josh Kennedy from Sydney is notorious for bursting out of the midfield and banging long goals. Ditto Brent Harvey from North Melbourne. It's rare that you'll see guys like this in single figures to kick the first goal.
Top goal scorer for the match
Again, the big forwards dominate here. Usually much shorter than first goal scorer. A guy like Sydney's mercurial Lance Franklin can be as short at $2.75 or thereabouts. We like the little half forwards – like Cyril Rioli and Robbie Gray. They're always decent odds and always a chance of bobbing up with four, five or six goals and winning you good dollars.
Most disposals in the game
Similar to most goals, except this market is usually provided in two groups, A and B. It's the midfield men, like Hawthorn's Sam Mitchell or the Western Bulldogs' Tom Liberatore that dominate here. Group A will usually consist of six to eight players, usually the most dominant possession winners historically. Group B will then have the B graders, offering prime opportunity to clean up.
Head-to-head or handicap player props – goals and disposals
Here's where two players are pitted against each other in a test of their goal scoring or possession winning abilities.

With goals, it will usually be a straight head-to-head bet. You have to answer the question who will kick more goals? Geelong's hulking forward Tom Hawkins might be pitted against Collingwood's Travis Cloke. The odds will often be influenced by who is in the better team, because the better team tends to provide better and more abundant delivery into the forward line, giving their player the advantage.

With possessions, often this market will be presented with a handicap.

Will Brendon Goddard have more possessions than Scott Pendlebury? He might not, but if the bookie gives him a 3.5 possession head start, then it starts to become a reality. If Goddard has 27 touches and Pendles 30, you still win.
---
AFL multi bets
Think your team is a sure fire winner, but is paying only $1.34 to do so? Want to enhance your odds?
Why don't you broaden your horizons?
Add another winner from a different game. Maybe two, or even three more winners.
With a multi bet, all you have to do is select two or more results from two or more different games and the odds multiply by each other.
Turning your single bet into a multi obviously adds to the risk of the bet, but it is a great way to turn your short odds into something grand.
And it gives you an interest in more than one game for the weekend, for a smaller investment.
Here is a simple three leg multi:
Hawthorn $2 to beat Sydney
Essendon $2 to beat West Coast
St Kilda $2 to beat Greater Western Sydney
So what happens is they multiply by each other.
So instead of putting money on each game, if you're confident all three results can get up you'll get a massive $12 return for your stake.
Those are with simple head to heads, but you can also include margin bets, handicap bets, almost anything, to get even more enhanced odds.
There are no set rules. You can multi up a few favourites and put down a big stake, or perhaps have a ridiculous number of legs, or a few serious outsiders to get huge odds for a small stake.
Most bookies offer up to 13 legs on their multis and they can be combined with other sports.
---
How do I get a live bet on during an AFL match?
If you're in Australia, you won't get a live bet online.
Use the old way. Pick up the phone, dial in and lay your punt.
Just saw Stevie J carried off on the stretcher at the opening bounce and watched North Melbourne slam on five goals to one to open the game?
There's still three quarters to go and the Cats were $1.50 before the game, but the injury and the big North lead has inflated that out to $1.95. Jump on!
---
Tips for betting on the AFL
Know your teams!
There's nothing worse than laying a bet on a Wednesday for the Pies to smash Essendon and then find the teams on a Thursday night, sans Steele Sidebottom, Scott Pendlebury and Dane Swan.
Injuries will wreck your bets and squander your money even before the game has started.
The exception here is to follow rumour.
If you hear that Gary Ablett Jr is going to miss for the Gold Coast on a Tuesday and you were planning to have a flutter on the game, it might be an idea to have a little taster early on, before the teams come out and the odds really come in on the opposition.
It's really important to have betting accounts with multiple bookmakers.
No, not because you're a problem gambler, because you want to ensure you get the best odds.
There's nothing more infuriating than loading up on the GWS to beat a sterling team like North Melbourne and getting $6 with your bookie, only to find the opposition was offering $9.
You can compare the odds and take the best ones.
---
The AFL: A short history
We've already mentioned the Australian Football League is the highest level of professional footy in Australia – and indeed the world – and is also the most popular sport to bet on in the country, but did you know it was once known as the Victorian Football League and played its first ever season in 1897.
It was a Victoria only league, that only welcomed interstate teams in the 1980s and became the AFL in 1990.
It started out with only eight teams – Collingwood, Essendon, Fitzroy, Geelong, Melbourne, South Melbourne, Carlton and St Kilda.
It now has 18 teams in five states, plays a 23 round home and away season, with the top eight teams battling it out in the finals, leading up to the Grand Final, which is the holy grail of the sport.
The first TV coverage was in 1957 and involved telecasts of the final quarter. It was then stopped in 1960, because of the worry of dwindling crowds. It now has its own dedicated Pay TV station, Fox Footy, where every single game is televised live, as well as free to air on Channel 7 – a far cry from the early days.
---
List of AFL teams

AFL Teams 2020/21

Adelaide Crows (South Australia)

Brisbane Lions (Queensland)

Carlton Blues (Victoria)

Collingwood Magpies (Victoria)

Essendon Bombers (Victoria)

Fremantle Dockers (Western Australia)

Geelong Cats (Victoria)

Gold Coast Suns (Queensland)

Greater Western (Sydney Giants, New South Wales)

Hawthorn Hawks (Victoria)

Melbourne Demons (Victoria)

North Melbourne Kangaroos (Victoria)

Port Adelaide Power (South Australia)

Richmond Tigers (Victoria)

St Kilda Saints (Victoria)

Sydney Swans (New South Wales)

West Coast Eagles (Western Australia)

Western Bulldogs (Victoria)
---
AFL/VFL records
Most premierships:
Essendon, 16, Carlton, 16
Most consecutive premierships:
Collingwood, 4, 1927 – 1930
Highest score:
Geelong 37.17 (239) over Brisbane Bears 11.9 (75), at Carrara, May 3, 1992
Highest winning margin:
190 points. Fitzroy 36.22 (238) over Melbourne 6.12 (48), at Waverley Park, July 28, 1979
Highest scoring game:
52.33 (345) in the St Kilda – 31.18 (204) – win over Melbourne – 21.15 (141), at the MCG on May 6, 1978
Highest scoring quarter:
South Melbourne – 17.4 (106) over St Kilda at Lake Oval, on July 26, 1919
Largest crowd:
121,696 – 1970 grand final, Carlton vs. Collingwood
Largest home and away crowd:
99,346 – Melbourne vs Collingwood, MCG, 1958
Most wooden spoons:
St Kilda, 27
Most grand final appearances:
Collingwood, 43
Most consecutive grand final appearances:
Melbourne, 7 (1954 – 1960), Hawthorn, 7 (1983 – 1989)
Most consecutive wins:
Geelong, 23 (1952 – 1953)
Most consecutive losses:
University (now defunct), 51 (1911 – 1914)
Most career games:
Michael Tuck (Hawthorn), 426
Most individual finals:
Michael Tuck (Hawthorn), 39
Most career grand finals:
Michael Tuck (Hawthorn), 11
Most individual premierships:
Michael Tuck (Hawthorn), 7
Most career goals:
Tony Lockett (St Kilda/Sydney), 1,360 goals
Most goals in a game:
Fred Fanning (Melbourne), 18, August 30, 1947
Most goals in a season (including finals):
Bob Pratt (South Melbourne, 1934), 150 goals
Peter Hudson (Hawthorn, 1971), 150 goals
Most consecutive matches:
Jim Stynes (Melbourne), 244
---
AFL team of the century
To mark 100 years of the VFL/AFL, a team of its greatest players was named.
The team, named in 1996, featured some of the men who made the game great and has become known as the AFL Team of the Century.
AFL Team of the Century
Backs

Bernie Smith (Geelong, West Adelaide)
Stephen Silvagni (Carlton) John Nicholls (Carlton)

Half backs

Bruce Doull (Carlton)

Captain:

Ted Whitten (Footscray)
Kevin Murray (Fitzroy, East Perth)

Centres

Francis Bourke (Richmond)
Ian Stewart (Hobart, St Kilda, Richmond)
Keith Greig (North Melbourne)

Half forwards

Alex Jesaulenko (Carlton, St Kilda)
Royce Hart (Richmond)
Dick Reynolds (Essendon)

Forwards

Leigh Matthews (Hawthorn)
John Coleman (Essendon)
Haydn Bunton Sr. (Fitzroy, Subiaco, Port Adelaide)

Followers

Graham Farmer (Geelong, East Perth, West Perth)
Ron Barassi (Melbourne, Carlton)
Bob Skilton (South Melbourne)

Interchange

Gary Ablett Sr. (Hawthorn, Geelong)
Jack Dyer (Richmond)
Greg Williams (Geelong, Sydney, Carlton)

Coach

Norm Smith (Melbourne, Fitzroy, South Melbourne)
---
Betting on AFL awards
There are several individual honours that attract big interest from punters over the course of the AFL season. Most AFL bookies run outright odds and futures bets for the following awards:
Brownlow Medal
Awarded to the fairest and best player of the season as judged by the umpires, the Chas Brownlow Trophy is one of the most prestigious individual honours in Australian sport. Past winners include many of the game's greats, including three-time medallists Haydn Bunton Sr, Dick Reynolds, Bob Skilton and Ian Stewart.
Coleman Medal
The AFL's leading goalkicker award is named for John Coleman, who booted 537 goals in 98 games for Essendon before injury ended his career prematurely in 1954. Tony Lockett and Lance Franklin have each won the medal four times since its introduction in 1981, while Jason Dunstall, Gary Ablett Sr, Matthew Lloyd and Jack Riewoldt have three wins apiece.
AFL Rising Star
Founded in 1993, the AFL Rising Star is awarded annually to the best young player in the competition. Rising Star winners often go on to become stars of the game, with the likes of Nathan Buckley, Ben Cousins, Adam Goodes, Nick Riewoldt, Sam Mitchell, Joel Selwood and Dan Hannebery all prime examples.