Sports betting in New Jersey
New Jersey has broken down barriers in sports betting in the United States, with the Garden State the first to legislate betting sites, following the successful repeal of the PASPA ruling, which had essentially stopped legal sports betting in the USA. Now there are more than 12 legislated and regulated New Jersey sports betting sites, that have some great sign up bonuses, work on mobile phones, including downloadable apps and most importantly offer markets on all the popular sports in NJ. Our article will guide you through everything you need to know about online betting sites in NJ.
NJ betting sites online
To operate legal sports betting sites in New Jersey you have to obtain a license off the New Jersey Division of Gaming Enforcement, which is run out of the Attorney General's office. The best betting sites NJ also have to partner with a land-based wagering or gambling venue. For instance global betting giant Bet365 is partnered with Hard Rock AC in New Jersey, a partnership they must have to operate in the state. Other International betting sites to move into the US, and notably New Jersey, include William Hill (Golden Nugget), DraftKings (Resorts AC) and FanDuel (Meadowlands).
William Hill
FanDuel
FoxBet
Pointsbet
BETMGM
Caesars
888 Sports
Pointsbet
Hard Rock
Resorts
BetAmerica
Golden Nugget
Borgata Sports
Bet365
theScore
Unibet
Yahoo Sportsbook
---
Betting on sports from New Jersey in 2023
With the USA playing host to many of the major sports competitions there is obviously great betting interest around them, which has only grown since New Jersey entered the legal sports betting sites scene. The top NJ betting sites obviously make a real impression around the US sports and often have some great bonus offers and promotions surrounding them. This section will run you through the most common betting mediums in New Jersey and provide you with a quick overview and further betting and strategy articles.
NBA betting
While New Jersey no longer has a team in the NBA, following the Nets decision to relocated to Brooklyn in 2012, the world's #1 basketball league has extensive betting available at NJ betting sites. The NBA is split into two conferences, East and West, and teams compete for the Larry O'Brien trophy. The NBA season runs for 82-game home and away season, plus a two month play-off series that finishes in June.
ALL NBA predictions & news
---
---
NHL betting
Betting on the NHL is exceptionally popular in New Jersey, with the New Jersey Devils the local team, and in-fact the only top-flight NJ sports team, following the Nets defection to Brooklyn. Betting on the NHL, which runs from October-June, can be dope at pretty much every online betting site in NJ, with many promotions and bonuses surrounding this competition. Also boasting teams from Canada, the NHL sees 31 teams from the east and west conferences do battle for the Stanley Cup.
---
---
NFL betting
The NFL is the top-flight American Football competition in the USA, with it boasting some of the highest paid athletes on the planet. While not having huge interest outside the states, the US public love the NFL, which culminates in the two best teams playing off in the Super Bowl, which is next due to be held on February 7, 2020. Betting on the NFL, particularly the Super Bowl is extremely popular and only growing more so since the legalisation of sports betting in some US states.
MORE NFL predictions & news
---
---
MLB betting sites
New Jersey does not have a Major League Baseball team, although there are two — New York Mets and New York Yankees — that are in neighbouring New York. NJ does have two Frontier League teams — New Jersey Jackals and the Sussex County Miners. Overall baseball betting is very common in New Jersey, like the rest of the USA, with the MLB and the World Series the main events drawing wagering interest.

MORE MLB predictions & news
---
---
Overview of legal gambling & wagering in NJ
New Jersey is considered to be ahead of times as it is one of the few US states to offer online gambling. If you reside in NJ, you can play your favourite casino games online, as well as compete in cash games and tournaments at poker rooms on the web. Sports betting will also be legalised later in 2018 when lawmakers legislation allowing it is made official following the overturning of PASPA in May.
Also read:
---
NJ horse betting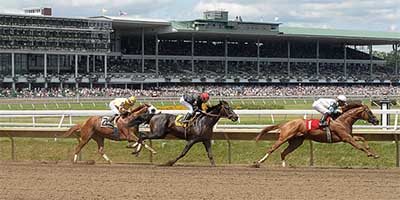 Wagering on horse and greyhound racing is legal in NJ, as the activity became exempt from gambling restrictions in 2006. Punters can place a bet on a race at one of the three local racetracks in the state, including Monmouth Park, The Meadlowlands, and Freehold. The state also has several off-track betting halls.
There are also no restrictions in place when it comes to betting online on horses, and you will find a range of local and international horse racing markets at NJ online sportsbooks. This means you can bet on sports and racing with legal and regulated online betting sites on both US horse racing and international thoroughbreds.
---
---
Timeline of sports betting in New Jersey
1992: Federal government introduces PASPA.
2009: New Jersey State Senator Raymond Lesniak plans to sue the federal government and to have PASPA repealed due to the billions of dollars lost to offshore gambling companies.
2011: New Jersey residents support referendum seeking to legalise sports betting in the state. US House Rep. Frank Pallone Jr announces plans to introduce legislation to set up a regulatory framework for a legalised sports betting industry. Sen. Lesniak announces plans to introduce legislation authorising the Casino Control Commission to regulate sports betting at casinos and racetracks.
2013: State approves bill supporting Pallone Jr and Lesniak's plans, which is signed into law by New Jersey Governor Chris Christie. Christie fights for a legalised sports betting industry, while the professional sports leagues, including the National Football League, National Basketball Association, National Hockey League, Major League Baseball, and the National Collegiate Athletic Association file a federal lawsuit against NJ, arguing it is illegal to offer sports betting under PASPA. US District Court and the US Court of Appeals for the Third Circuit side with the major sports leagues.
2014: Gov. Christie appeals decision and legalises sports betting. The leagues file a suit, and the US District court issues a temporary restraining order.
2015: New Jersey appeals the restraining order, the US Third Circuit Court of Appeals upholds lower courts decision, Gov. Christie appeals the decision again, and finally the full Third Court agrees to hear the case.
2016: The state of New Jersey presents its case to 12 judges of the US Third Circuit Court of Appeals. The court rules against the state. New Jersey appeals the decision and takes the case to the US Supreme Court.
2017: SCOTUS agrees to hear the appeal and will try the arguments for and against a legalised sports betting industry on December 4. Interested parties submit amicus briefs supporting the case, and while the pro leagues have come around they maintain their stance against a legalise sports betting industry. Federal New Jersey Congressman Frank Pallone, Jr. releases a draft of a bill called the Gaming Accountability and Modernisation Enhancement Act (GAME Act), which would repeal PASPA.
If New Jersey wins the appeal, any casino or racetrack in the country will be able to offer sports betting.
2018: On May 14 the US Supreme Court overturned the 1992 Professional and Amateur Sports Protection Act which paves the way for New Jersey to introduce legislation to tax and regulate sports betting. It was somewhat of a test case for all of the USA with this decision effectively putting the PASPA out of practice and allowing each state the opportunity to legislate sports betting. The pressure will now grow on federal legislators to make uniform laws across the 50 states, rather than have a patchwork of different situations.
2019: In November 2019, it was announced that FanDuel had taken the first legal esports bets in the USA. Prior to this esports betting was still banned in New Jersey, but after these initial bets were offered, the rest of the NJ betting companies quickly jumped on board and began offering esports betting.
---
NJ Sports betting laws 2023
New Jersey has become a central figure in the fight to legalise sports betting in the USA, with its test case challenging the Professional and Amateur Sports Protection Act (PASPA) was successful in May 2018. This paved the way for NJ to legislate and regulate sports betting in a huge windfall fo the states money counters.
The decision also gives the green light for another 20 states in the process of legislating sports betting to move ahead. So far Nevada, Oregon, Delaware, Montana have some forms of legalised sports betting. BettingPlanet.com will keep you posted as more information about the rejigged New Jersey gambling industry comes to light.
The state of New Jersey remains a hotbed for companies that are looking to take advantage of legalised sports betting. Caesar's Entertainment, which owns two casinos in Atlantic City, has already started to offer sports betting at one of its casinos.
Bally's Casino, owned by Caesar's and based in Atlantic City, offered sports betting as of late July 2018. Meanwhile, Harrah's Casino is still preparing to do so. The plan for that casino is to offer sports bets by early August.
Caesar's also owns casinos in Mississippi with plans to offer sports betting at those properties in the future. The Caesar's Entertainment Corporation is best known for Caesar's Palace in Las Vegas. It also owns both a Bally's casino and a Harrah's Casino in Vegas additional to the similarly-named ones in Atlantic City.
But New Jersey is the state where most of the recent developments for sports betting have taken place. Governor Phil Murphy placed the first bets at the Monmouth Racetrack. Since then, FanDuel has opened a sportsbook at Meadowlands.
Other states that have legalised sports gambling include Delaware, Rhode Island, and others. But one reason why New Jersey keeps making sports-betting headlines could have a lot to do with the fact that it is well populated relative to many other areas that now have legalised sports gambling. A densely-populated area means more potential customers that casinos with sports betting services can try to earn loyalty from.
With many parts of the USA not advancing quickly with their sports betting agendas, the state of New Jersey could certainly become the 'face' of sports betting on the USA's east coast. That is especially likely given that the state of New York has not legalised sports betting yet.
In 2021, NJ sports betting continues to grow, with more and more sportsbooks springing up. In November 2019, web and media company Yahoo announced it was joining the sports betting fray in New Jersey, through a partnership with Borgata AC.
The other big news emanating from New Jersey at the tail-end of 2019, was FanDuel becoming the first NJ sports betting site to accept bets on esports. Prior to a change in NJ gambling legislation, betting on esports had been outlawed.
Online gambling in New Jersey 2021
On top of arguably the best regulated sports betting industry in the USA, New Jersey also allows its residents to play at online casinos, enter lotto draws and even play online bingo. The top NJ online gambling sites must have a partnership with a land-based gambling venue, such as one of the casinos in Atlantic City.
There are six main casino operators in New Jersey, which run online casinos, including;
Borgata Hotel Casino and Spa – four online casinos, three poker rooms and one bingo site
Caesars Interactive Entertainment – three online casinos and three online poker sites
Golden Nugget Atlantic City – four online casinos
Resorts Casino Hotel – two online casinos and one poker room
Tropicana Casino and Resort – two online casinos
While nearly all of the online casinos are extensions of NJ land-based casinos, these operatorshave teamed up with the biggest poker brands in the world, including WSOP, PartyPoker, PokerStars and 888 to deliver online poker to NJ residents. While Ultimate and Betfair both had an online poker room, both closed down in 2014.
PokerStars launched in New Jersey in 2016, and holds a huge market share. However, it may lose some of its business when the shared online poker liquidity deal becomes a reality.
---
Online gambling laws in New Jersey
New Jersey's former governor, Chris Christie, has been integral to shaping New Jersey's online gambling environment. On February 27, 2013, he signed a bill authorising online casinos and poker in the state. Online casino and poker games became available to New Jersey residents on November 21, 2013, including slots, table games, speciality games and poker games.
However, there are only a few licensed gambling sites in the state, since land-based casinos in Atlantic City, as well as licensed partners, are the only operators allowed to offer online gambling games in NJ.
Players can only gamble at these sites if they are within state borders. If they leave the state, they will be unable to access their account until they return. Tourists can also gamble online at these sites, with the player's location determined by a global positioning system (GPS).
The casinos and poker rooms are regulated by the NJ Division of Gaming, ensuring games are fair and the operators adhere to responsible gambling policies, making NJ one of the best US online gambling states.
Online gambling age limits
The legal gambling age in New Jersey both online and offline is 21. Players are required to verify their age when signing up online, and any minors caught gambling will be prosecuted under The Casino Control Act.
The legal gambling age for some games, like the lottery, online and offline bingo, and horse and dog racing, has been advertised as 18, however, it is recommended to research whether it is legal or not to avoid a criminal conviction.
NJ online poker shared liquidity deal
In October 2017, Christie announced a shared liquidity agreement between Delaware and Nevada, the only other states in America to offer online poker. These two states already have a shared poker pool on WSOP.com, and the New Jersey addition will significantly expand the size of the player pools.
However, PokerStars is unlikely to benefit from the agreement as it is banned from Nevada due to a bad actor clause. Other US states in the throes of making sports betting legal include Missouri and Connecticut.
Offshore online casinos in New Jersey
Since players are limited to casino sites run by operators with a physical presence in the state, catalogues are somewhat similar. Some offshore online casino operators still accept New Jersey players who are looking for more variety.
You can check out a huge range of these online casinos on our US online casinos page. It's important to only play at secure offshore casinos, so check out our reviews before signing up to find out why we recommend these sites.
---
New Jersey licensed sports books
Racecourses and casinos will soon be allowed to offer sports betting after the 2018 law changes. This means tracks like Monmouth Park and casinos will be able to house a sportsbook. It also means online sportsbooks will become regulated and more and more big gambling companies like William Hill, 888 Holdings and GVC Holdings are likely to throw their hat in the ring for licenses.
While there are no online sportsbooks licensed in New Jersey as of May 15, 2018, we will update this with further information as more comes to light.
Offshore sports betting sites
Since operators cannot offer sports betting in the state, NJ punters are forced to look elsewhere. There are several sportsbooks which accept US and NJ gamblers and you can place a bet on local and international sports here.