Sports betting in Pennsylvania 2022
Sports betting is officially in Pennsylvania, with both retail betting and online sportsbooks now open for betting. The top PA betting sites are licensed by the state, share a partnership with a land-based gambling location and offer hundreds of sports betting markets on various events from all over the world. Our top PA sports betting sites for 2023 are:
PA sports betting news
PA sports betting news
---

Best PA sports betting sites 2023
Betting on sports was illegal in all but four US states until May 2018, when the US Supreme Court struck down the Professional and Amateur Sports Protection Act (PASPA) in a landmark ruling. Pennsylvania had already passed a sports betting bill by then, so it was no surprise when the Hollywood Casino at Penn National officially opened a sportsbook in November 2018. Most of the state's casinos and racetracks now take bets on sport. It took a little longer for PA betting sites to launch, but there is now a legal and fully operative betting industry in Pennsylvania. At the moment there there is four sportsbooks, but there are many other names that have been linked to obtaining a sports betting license in Pennsylvania, including giants like Bet365 and William Hill, that have secured licenses in other US states.
Top PA online sportsbooks 2021
Just like other states swung into action after the dissolution of the PASPA Act in 2018, Pennsylvania was not going to be left behind. The state had an opportunity to legalize sports betting like New Jersey and took action immediately. Legalized and regulated sports betting in launched in 2018 in Pennsylvania and expanded online in May 2019. Currently, there are over 10 sportsbooks providing sports betting services in the state.
Knowing what bookie to wager with is not an entirely easy decision. For some, they are more interested in the bonuses and promotions available on the site than the odds, customer service, betting markets, and the number of sports covered. Others might be swayed only by how easy it is to navigate the sportsbook. That said, here is a short review of eight of the top sportsbooks in Pennsylvania.
DraftKings
DraftKings is one of the leading sportsbooks in Pennsylvania. Although it was not the first to launch in the state, it has come in looking to dominate the market. DraftKings has several promotions that are appealing to bettors. However, the most eye-catching promo is its welcome bonus. It offers up to $1,050 as a welcome bonus. One comes in the form of $59 free bets upon registration and deposit. The other gives bettors up to $1,000 first deposit match. It is worth noting that only 20 percent of your deposit is what will be given to you in the match bonus. Even as DraftKings does not offer much in terms of welcome bonus, its competitive odds and the easy-to-navigate site make it one of the leading sportsbooks in Pennsylvania.
BetRivers
BetRivers was formerly called SugarHouse Sportsbook, which was the first to launch mobile sports betting in Pennsylvania. Although not one of the prettiest or visually appealing betting sites, BetRivers has a robust betting offering and promotions to keep bettors interested. New users are given up to a $250 initial deposit match bonus. Even as all bonuses have terms and conditions attached, we can confidently say that this is the most straightforward bonus in the state. Making deposits has never been easier as BetRivers offers a wide array of deposit options to users. You can also try your hands at casino betting through the app as it features a shared wallet with BetRivers Casino.
Parx Sportsbook
Available only on the web and Android, Parx sportsbook is not operating at the same level as other sportsbooks in the state. Parx offers a wide range of deposit options and betting markets – over 100+ bets on individual rugby games. However, the bonuses and promotions available are not as enticing as other sportsbooks in the state. Also, you are limited when you use the betting app, as not all offerings and features are available there. Also, Parx sportsbook offers only email support and live chat, which is only available on the app. While Parx Sportsbook is a niche betting site at the moment, it often will have unique promotions that set them apart from other betting site sin Pennsylvania.
BetMGM
BetMGM is the newest entrant to the Pennsylvania sports betting market, as it launched in December 2020. Although it is new in Pennsylvania, Bet MGM is one of the older sportsbooks in the US and has been offering its services in New Jersey since 2018. New users are entitled to up to a $600 risk-free bet welcome bonus. BetMGM is fully aware of its position as the newbie in Pennsylvania, which is why it has several juicy promotions to lure bettors. Also, it offers a wide range of betting markets across several sporting events globally.
FanDuel
In terms of handle, FanDuel is the biggest sportsbook in Pennsylvania. The closest to it is DraftKings, although the margin is significant. FanDuel also holds the record for the best user interface and easy-to-navigate app. One feature that has set FanDuel miles ahead of its competitors is its welcome bonus. FanDuel offers a $1,000 risk-free deposit bonus, which is eligible for withdrawal and paid back on the qualifying bet. It is nothing like what other sportsbooks offer because both the winning and the stake will be available for withdrawal. Numerous betting markets are also available to you, even during live betting. It is worth noting that the same app serves across all states FanDuel operates in. The geolocation technology is what determines the state you are in and if you are allowed to bet legally in the state.
Bet America
The US-based sportsbook launched in February 2019 and has since then offered its services across several states in the US. The company has been in operation since 2008 but only as a racebook. Now, sports, horse racing, and casino betting are all under one app. The company has a lot of experience with running an online betting site even though the sportsbook offering is new. Their welcome bonus is not the most exotic as new users are offered a 100 percent match bonus up to $50. There are other bonuses and promotions available but are also not as valuable as other sportsbooks operating in the state. One standout feature of Bet America is that there is a large lineup of individual wagers. Events have over 150 wagers available for bettors to choose from.
Unibet
Unibet is a sports betting giant in Europe but is relatively new in the US. Regardless, the sportsbook is giving others in Pennsylvania a run for their money. Even though they are not as popular as other sportsbooks in the state, a strong marketing campaign could change all that. The welcome bonus for new users of Unibet is enticing. Users are given a $40 free bet upon sign up and a $500 risk-free bet bonus after they make their first deposit. Their mobile app is available to both Android and iOs users. Unibet is one of the more popular overseas sports betting sites to enter the PA market.
FoxBet
FoxBet is not as big as DraftKings or FanDuel but is the third most popular sportsbook in Pennsylvania. The main reason for their popularity is their heavy reliance on prop bets and odds boosts. When it comes to making deposits, your best bet is through ACH/e-check, as online banking is not yet an option. You also need to look out to make sure you get the right app for Pennsylvania. The offerings and features of the apps available for New Jersey and Pennsylvania are different, which is why you need to make sure that you are getting the right app for your location. FoxBet offers new users a $500 risk-free bet as a welcome bonus.
PA betting bonuses & promotions
Sports betting bonuses have long been a staple of online gambling, and at PA sports betting sites its no exception, with all of the brands available having some kind of new account sign up bonus. Betting sign up bonuses can take many different forms, but so far in the short history of Pennsylvania betting promotions, the most common are free bets, where the online sportsbook will give you a small denomination, to allow you to have a free bet on an event, or matched deposits, where betting sites match your first deposit up to a certain amount.
Note: All Pennsylvania betting bonuses will have wagering requirements attached to them. This means you have to bet the money a certain amount of times before you can withdraw. PA sportsbook promotions could also have other requirements attached to them, such as a cap on the amount of money you can win from your freebet.
Betting on sports from Pennsylvania in 2023
The USA is arguably the no.1 betting nation in the world, despite having a limited history in the legal betting industry. For years Pennsylvanian online bettors wagering with offshore betting sites, but the change in US gambling laws, means many PA betting sites are spawning. The top Pennsylvanian online sportsbooks will have a bevy of promotions and bonuses surrounding the major sports, like the NBA, NHL, MLB, MLS and many more. So in summary, people in Pennsylvania can bet on sports in retail betting locations and via the internet and online betting apps.Below we will run you through some of the most popular betting mediums in Pennsylvania, providing you with a synopsis and more links to betting strategy and tips articles.
NBA betting
NBA betting is highly-popular in Pennsylvania, with the Philadelphia 76ers based in this state. The 76ers have many star players including Joel Embiid and Australian Ben Simmons. All PA basketball betting sites will price all NBA games, plus have markets from various basketball competitions around the world.
ALL NBA predictions & news
---
---
NHL betting
Betting on the NHL is done frequently in Pennsylvania, with all betting sites PA offering markets on the top US ice hockey league. The Philadelphia Flyers and the Pittsburgh Penguins both play in the NHL and have massive interest, and a huge rivalry, among the people of Pennsylvania. The NHL also has teams based in Canada, with 31 teams from the East and West Coast fighting it out for the Stanley Cup. PA betting sites will often NHL promotions and bonuses running to entice new players.
---
---
NFL betting
The NFL is popular all over the USA and Pennsylvania is football mad, with all betting sites having markets on this sport. Pennsylvania is home to two NFL teams — the Philadelphia Eagles and the Pittsburgh Steelers — meaning when these teams are playing betting in the state goes up a notch. The BettingPlanet US team writes weekly previews of the Steelers and Eagles games when in-season.
MORE NFL predictions & news
---
---
MLB betting sites
The Pittsburgh Pirates and the Philadelphia Phillies, who are possibly the most famous sporting team in Pennsylvania, spearhead Pennsylvania's assault on the professional baseball league, Major League Baseball or the MLB. MLB betting is extremely common and many people make a living from betting on this sport. While MLB betting is popular, it goes up a notch when the playoffs and World Series gets underway each year, with these games drawing global wagering interest.
MORE MLB predictions & news
---
---
---
Sportsbooks in Pennsylvania

On top of a number of online sportsbooks, Pennsylvania has licensed a number of the gambling venues in the state to offer sports betting. These retail betting venues first began offering sports betting on November 16, when Hollywood opened its doors to sports bettors.
These betting locations must have an existing gambling license from the PA regulator, and need a tech partner to get started. For instance Hollywood's tech partner is global giant William HIll, meaning their sports betting offering uses this software.
A number of other sportsbooks are opening in Pennsylvania, with other casinos boasting sports bettig including the SugarHouse, Rivers, Parx and Mount Airy.
Retail betting locations in Pennsylvania
Hollywood
SugarHouse
Rivers
Parx
South Philadelphia Turf Club
Harrah's Philadelphia
Valley Forge
Valley Forge Race and Sportsbook
Mohegan Sun Pocono
Mount AIry
Presque Isle Downs
---
Betting on horse racing in Pennsylvania

Betting on horses in Pennsylvania is legal and there are five racetracks where you can make wagers.
Harrah's Philadelphia – This racetrack located in the City of Brotherly Love opened in 2006 and is located very close to Delaware and New Jersey. There are many bets to make on the many races that are offered at the state of the art racetrack.
Parx Racetrack – This is one of the bigger racetracks in Pennsylvania and it is where the the main two gallops races in the state are held, with the Grade II Pennsylvania Derby and the US $500,000 Grade I Fitz Eugene Dixon Cotillion Handicap taking center stage.
Penn National – This racetrack was established in 1972 and here bettors can make wagers on races year around.
Pocono Downs – This track runs many races with many wagering options and they are a member of the U.S. Trotting Association.
Presque Isle Downs – This track was established in 2007 and besides offering many races this track is a unique one to say the least. It is paved with Tapeta, which is a synthetic surface where races can be held on no matter what the weather and in the Northeast region of the United States it was the first longer than one mile synthetic racetrack.
The Meadows – This is the oldest racetrack in the state and you can make bets all year round.
---
PA online gambling sites 2023
Online gambling in Pennsylvania has changed quite a bit over the last 10 years or so. It used to be that the state was totally against gambling as a whole, but that is certainly not the case anymore. Not only are there over a dozen land-based casinos in the state, but there is also no lack of slots games and tables games at them.
Racetrack gambling, the lottery, online casinos and online poker are all legal in the Keystone State, which was also among the first to introduce sports betting after the nationwide ban was overturned in 2018.
While the PA betting market has not exploded like its New Jersey counterpart, there are still a number of serviceable online betting sites that you can legally sign up at from Pennsylvania.
Online casinos in Pennsylvania
To operate an online casinos in Pennsylvania you must have a partnership with a land-based casino, meaning there are only limited options when looking for a PA gambling site. Having said this, while there are only currently a handful of PA online casinos, there are plenty more set to launch in the coming weeks and months.
Online casinos in Pennsylvania allow patrons to play games like online slots, blackjack, roulette and baccarat all from the comfort of your home. While in years gone by, playing casino games online couldn't hold a candle to live casino gaming, this has changed significantly with the amount of development that has gone into online casinos.
The advent of things live table games, which allows you to play games like blackajck and roulette, via a video feed, and the continued improvement and size of the jackpots on the slots titles available online, has seen iGaming making giants strides in catching up to the retail gambling industry and its bevy of casinos.
Legal online casinos in Pennsylvania for December, 2023:
Unibet
Sugarhouse
Hollywood Casino
Sugarhouse Casino
Parx Casino
DraftKings
PA online poker
In the casinos around Pennsylvania poker is available legally and while there are no state-specific online poker rooms the bigger ones online today take players from the state. There are many offshore poker rooms, which cater to every type of player from low stakes players to high rollers. The state does not prohibit its citizens to playing at online poker rooms.
---
Timeline of sports betting in Pennsylvania
1992: Professional and Amateur Sports Protection Act enforced: The US government acts to "protect the integrity" of sports, by banning sports betting betting in all states, barring flimsy concessions for Delaware, Oregon, Montana and Nevada.
2011: NJ challenges PASPA: The state of New Jersey challenges the PASPA rulling, but ultimately fails in its bid to legalise sports betting.
2014: The start of legal sports betting: New Jersey again challenged the PASPA ruling, using some different tactics, with the various sports leagues again protesting. However, the Supreme Court ultimately agreed to hear their case, eventually striking down PASPA.
2017: Pennsylvania paves way for sports betting: Pennsylvania officially legislates sports betting, paving the way for a legal gambling industry, when PASPA is finally repealed.
May 14, 2018: PASPA is finally annulled and US states, including Pennsylvania have the right to launch online sports betting sites and retail betting locations.
May, 2019: The first online betting sites launch and begin taking bets in Pennsylvania. PlaySugarhouse.com was the first brand to accept an online bet in Pennsylvania.
PA sports betting laws
In 2004 the Race Horse Development and Gaming Act was passed in Pennsylvania which made it legal to gamble on slots machines as well as table games. By 2006, casinos and racetracks in Pennsylvania were allowed to have video slots and table games.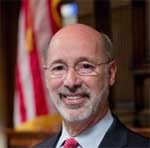 Online gambling and sports betting were made legal in October 2017 when Governor Tom Wolf signed HB 519 into law. The federal ban on sports wagering was repealed the May 2018 and Pennsylvania sportsbooks commenced operations the following November.
The Pennsylvania Gaming Control Board regulates most of the gaming in the state and it is law that casinos can have up to 5,000 slot machines and 250 table games. Resorts around the state that have a gaming license can have up to 600 slot machines and 50 table games.
So far the PA sports betting industry is in its infancy, although it's fair to say the bean counters are enjoying it. New sports betting sites have got to pay a once-off $10 million fee to operate in the state, while they are also taxed at 36% on revenue, following a successful application.
Pennsylvania's sports betting laws are more liberal than other regulated states, with an allowance for both professional and collegiate events. As long as you are 21 years of age, are at a physical betting location, have a mobile or an internet connection, you are eligible to bet with all the top sportsbooks in Pennsylvania.
The Pennsylvania Gaming Control Board has received strong praise for its approach to gambling regulation so far, with sports betting sites forced to go through a rigorous testing process. Because sports betting apps are so prominent in the this market, the PGCB has taken extra precautions before allowing these real money apps to be launched.