For a country so small, New Zealand punches well above its weight division, when it comes to horse racing.
From Phar Lap to Sunline, the Kiwis, have an extraordinary history in horse racing with many of their greatest moments coming across the ditch in Australia, where the standard is generally higher, and the races worth more.
Some of the biggest names in racing have come from New Zealand to forge a career worldwide, and the honour roll would sit comfortably against any other nation.
In fact, since 1882 an incredible 40 horses have come from New Zealand across to Australia and taken out the world's richest staying race the Melbourne Cup.
Not just content breeding the world beaters, New Zealand has a long and storied history of horse racing in its native land. New Zealand has several key Group 1 and 2 races throughout the year as well as key carnivals over both the flat and jumps circuits.
We compiled a list of the biggest races, the notable tracks and the best places to bet on the New Zealand gallops so those who are unfamiliar with racing can get a grasp of the magnitude of the sport's reach.
---
How to bet on NZ horse racing
Punters in New Zealand have got many different ways they can wager on horse racing, with these including online bookmakers, retail betting and on-course. How you bet on NZ horse racing is essentially up to you, although the no.1 method of wagering on thoroughbreds in [mr-year] is via horse betting sites online.
The ways you can bet on Kiwi horse racing include:
Retail betting: New Zealand has got retail betting outlets dotted around the country, with these managed by TAB NZ. Betting shops will allow you to place bets on both NZ racing and races held overseas.
Online betting sites: There are very few restrictions surrounding online betting sites in New Zealand, with nothing stopping Kiwis from betting on racing via these sites. Sports betting sites, based in places other than Australia, can be more beneficial to those in New Zealand, because free bets and sign up bonuses are banned down under. Mobile betting is also growing increasingly popular in New Zealand.
On-course: While on-course horse betting is still done in New Zealand, it is nowhere near as popular as it was a few years ago. Instead of 30 different bookies flooding courses, now many race meetings in New Zealand will only have 2-3 rails bookies attend. On-course bookmakers can offer great odds, in comparison to the TOTE and nothing beats the thrill of placing bets via the betting ring.
TOTE betting: The NZ tote is managed by TAB and essentially is pool betting.
---
Horse racing tracks in New Zealand
Ellerslie racecourse
The premier track in the New Zealand capital of Auckland, Ellerslie is a course steeped in tradition.
Ellerslie has over 120 years of racing to its name and houses both flat and jumps racing and is home to New Zealand's famous Summer Carnival and the Auckland Cup.
A little known fact about Ellerslie is that it is the first ever racecourse to have an automated totaliser installed on track back in 1913.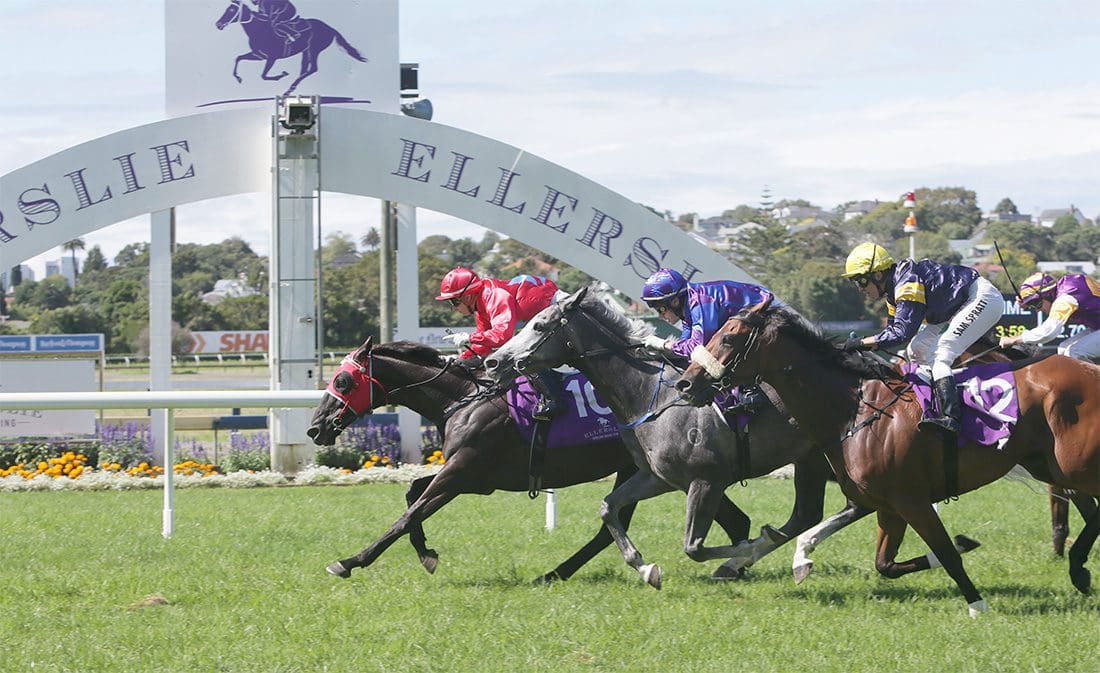 Te Rapa racecourse
One of New Zealand's most recognisable courses given how frequent the racing is at the venue, Te Rapa – or Waikato – is a true all-year round track.
Located in the north island city of Hamilton Home to the Group 2 Waikato Guineas and Foxbridge Plate. The track is constantly undergoing upgrades to ensure it remains a 365 day a year racing venue.
Riccarton racecourse
Riccarton is the main course of the Christchurch area of New Zealand and lays claims to being one of the best tracks in the country.
Home to the Group 1 New Zealand 1000 and 2000 Guineas as well as the Group 2 New Zealand Cup, Riccarton has the best racing outside the big Ellerslie festivals in New Zealand.
Hastings racecourse
Known as the home of racing on the Hawkes Bay, Hastings has the feel of a boutique racetrack, while retaining the big-time feel of an internationally recognised track.
Home to New Zealand's answer to Melbourne's spring racing carnival – which includes New Zealand's richest weight-for-age race the Spring Classic – Hasting's creates a unique blend between professional, high-class racing with a distinct non-city feel.
Avondale racecourse
Based on the outskirts of the New Zealand capital of Auckland, horse racing at Avondale dates back well over 150 years.
Home of the Group 2 Avondale Cup, some of New Zealand's greatest exports like Whoshot Thebarman and Regal Krona have built their careers at the Auckland track before conquering the Aussie tracks across the Tasman.
Trentham racecourse
Trentham racecourse is the main thoroughbred racecourse, in one of New Zealand's biggest cities, Wellington.
The course hosts a number of the country's best races including the Group 1 New Zealand Oaks, Thorndon Mile and the Captain Cook Stakes.

---
Biggest races to bet on in New Zealand
The Auckland Cup
First contested in 1874, the Auckland Cup is a Group 1 race held at Ellerslie and is one of the richest races in New Zealand.
Ran over the 3,200m on the second week of the Auckland Cup carnival, the Cup has been a terrific indicator over the years for horses who are destined to go on and claim group honours overseas.
The Karaka Million
Held at Ellerslie, the Karaka Million is New Zealand's richest horse race.
The race has been in existence since 2008 and is restricted to two-year-olds who were sold through the New Zealand Bloodstock Yearling Sales held at Karaka.
The Spring Classic
Over the distance of 2,040m, the Spring Classic is held every year at Hastings racecourse and is New Zealand's richest weight-for-age race.
The race is now regarded as New Zealand's premier weight-for-age race and is recognised worldwide as an event that has future group winners attached to it.
The New Zealand 2000 Guineas
The 2000 Guineas is a set-weights race for horses aged three-years-old held at Riccarton racecourse.
Ran over the 1,600m, the race is held on the first day of New Zealand Cup week, which is the Saturday following the Melbourne Cup.
The New Zealand Cup
It may not be the country's richest race, but there is no question the New Zealand Cup is one of the most coveted prizes on offer in the sport of horse racing.
Held on the final Saturday of New Zealand Cup week, the race – which is ran over 3,200m – might have rescinded to group 3 status, but it is still the most popular race in the country.
---
New Zealand horse racing bookmakers
Much like their neighbours across the Tasman, New Zealanders have a multitude of options when it comes to punting on the ponies.
Like Australia's Gambling Act, the one in New Zealand only covers activities that originate within the country's border.
What this means is the New Zealand government cracks down hard on betting sites that operate within the country, but much like Australia, they do not have the same jurisdiction over those which operate from other areas such as Norfolk Island and Australia's Northern Territory.
The important thing to know as punters is that the laws are in place to curtail the company's ability to operate freely within the nation – they do not affect the punter in anyway.
Amongst some of the favourite horse racing betting sites for Kiwis that we recommend are Bet365 and William Hill, with both of these based out of the United Kingdom (Top UK betting sites).
The horse racing bookmakers online will also have extensive sports betting markets available, with their sheer depth in markets making them a more attractive proposition than retail betting. This means you can bet on popular sports in New Zealand like cricket (cricket betting) and rugby (rugby betting).
---
Overseas bookmakers
New Zealand horse racing – much like Australia's – is a big deal in the country, and while the Kiwi iteration is not as popular as the Aussie gallops, there is still plenty of interest around the big races.
English powerhouses like Bet365.com.au and Bodog88 are always committed to offering punters the best options from every country in the world that provides horse racing to bet upon, while Citibet – who we do not fully endorse – also offer markets on New Zealand races.
Bet365 (bet365 review) in particular is a cut above the rest of the competition given they have markets on every New Zealand televised horse racing card as well as live-betting on select races.
---
Gambling laws within New Zealand
Gambling laws in New Zealand are, at the very least, not up to date. They don't really cover the emergence of online bookies and they don't provision for these sites either. This means Kiwis can bet online with the TAB legally, or in betting shops, pubs or clubs, but technically that is the extent of gambling in this country.
However many Kiwis bet with Australian bookies such as Sportsbet, who were rumoured to be launching a stand-alone Kiwi brand a few years, but this never eventuated, whether because of law or red tape we are not sure. We have never heard of a NZ citizen getting in trouble for wagering 'offshore' and most betting sites will accept patronage from this country.
In conclusion, it is perfectly legal for Kiwis to wager at online betting sites. BettingPlanet.com will keep you in the loop as things change in this landscape.
---
What makes New Zealand racing unique
The laws of racing – depending on the discipline – remain the same from country to country, but much like Australia, New Zealand enforce the laws around stewards' inquires and protests a little more stringently than their United Kingdom counterparts.
Gallops meetings – especially in the UK – allow a lot more bumping and jostling than they do in Australia racing and New Zealand.
Down under, any kind of duel that inhibits the ability of a horse to even mount a challenge will result in a protest.
However, on the major races throughout the year the legitimate betting companies offer both first past the post and protest payout returns so you are covered irrespective.
Another unique aspect to Aussie and Kiwi racing is the whipping law which dictates jockeys cannot strike a horse with the whip more than five times in the final 100m of a race. This rule has been rather contentious in Australian racing, with several high-profile jockeys being penalised over the years.
Punters have been stung in Australia by the scenario as it has led to a disqualification early in 2016 when the law was first brought in but New Zealand has never seen a successfully upheld protest on a horse that has deemed to be 'overwhipped' in the final 100m.