NCAA Basketball is the college level competition in the United States, and the biggest source of future NBA players. Betting on the NCAA competition is common-place with basketball betting sites all-round the world featuring odds for head to head matches, player markets for things like MVP, finalist and overall winner. NCAA basketball betting can take place all year round, although online sportsbooks tend to up the ante when it kicks off in November, and go into overdrive when March Madness rolls around. Our guide to NCAA college basketball betting will teach you everything you never knew you need to know. The following geo-targeted NCAA online betting sites table only shows bookmakers you can sign up at from your location.

Top NCAA BETTING SITES
All betting sites
---
NCAA basketball previews 2019-20
ncaa
All NCAA basketball picks
NCAA college basketball vs NBA
SOME say the NBA is the pinnacle of basketball.
And maybe it is. But, in the USA, it certainly isn't the most popular format.
That honour belongs to the college game.
It is one of the most popular sports to bet on in the USA and has a large following from punters outside the stars and stripes.
March Madness – the NCAA Division one championships – is obviously the big drawcard, but there are hundreds and hundreds of games for punters to slam their hard earned on every week.
Betting on collage ball is a little like betting on the NBA, except the lines, handicaps and over – unders will often be weighted differently.
They still have the key markets of head to head, or money line betting, the handicap, or spread betting and the over – unders we've just mentioned.
College basketball features the best young talents from across the USA and the world, playing for their colleges, with some match ups steeped in rich history.
Basketball was actually coined in the YMCA International Training School, which eventually became Springfield College, in Springfield, Massachusetts.
PE teacher Dr James Naismith nailed two peach baskets at each end of the gym and basketball was born.
So colleges were actually the sport's pioneers, long before Kobe Bryant, Lebron James and company were flying around on the big dollars.
The sport's pinnacle is the National Collegiate Athletic Association (NCAA), but there are several other more junior competitions between colleges.
Its first competitive games were played in 1939.
UCLA dominated the competition in its early days, winning 10 titles throughout the 1960s and 1970s.
Today, there are 68 teams in the NCAA, with the bottom eight teams playing for four spots, which makes a field of 64 that enters the finals.
That gets whittled away until there is only one team standing and often interested people will compete in brackets, trying to tip who will make it through each round.
There are also division two and division three competitions.
While there are obvious similarities between college basketball and the NBA, there are also several differences.
NCAA games have two 20 minute halve, while the NBA has four 12 minute quarters. Games can be slower in college ball, because the shot clock is 35 seconds, instead of the NBA's 24. This gives the kids a chance to learn and execute plays. They get 10 seconds to get the ball over the half way line in college ball, but only eight in the NBA.
The college three point line is just a tick over six metres, while the NBA's is 7.34 metres on the circle and 6.7 metres in the corners. Its lanes are much smaller, measuring 3.7 metres instead of 4.9 metres in the NBA.
Players foul out after five fouls, not six, as in the NBA, and they get seven team fouls before free throws are awarded, instead of five.
Defensively, there is no illegal defence calls in college ball.
Any way, there's a little bit about the college game, let's take a look at how you can make some money out of it.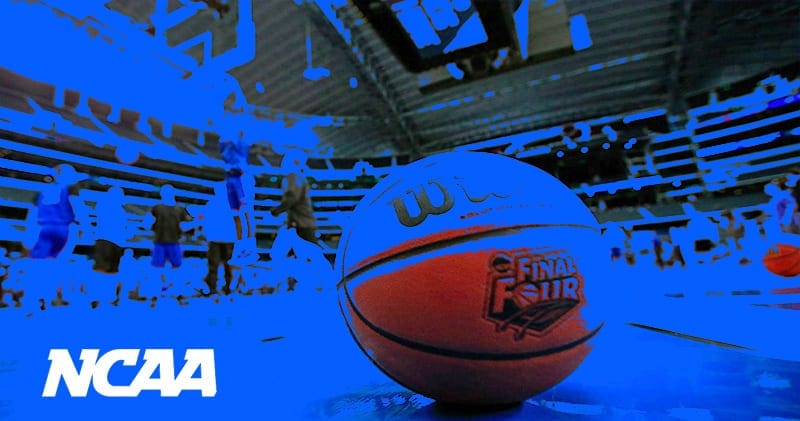 Money line, match or head-to-head betting on the NCAA
So who is going to win?
You decide.
On a money line bet, known in some countries as match or head-to-head, all you have to do is select the team you think will win, place your bet, and then hope like crazy your tip gets up.
Simple, really.
You'll obviously need to know your teams if you want to make money out of it, and often there are seriously long and short odds in most matches, depending on the prestige of the university's basketball program.
Over time is counted in this bet, so you don't have to worry if it's a stalemate at the end of regulation.
You won't often see markets that are even on each team in college.
An example of a head-to-head bet is:
| | | |
| --- | --- | --- |
| Michigan ($2.49) | @ | Rutgers ($1.57) |
So Rutgers are favoured to win on their home court and all they have to do is win and you'll get $1.57 for every $1 you stake. If you like an outsider, you can have a flutter on Michigan, and you'll more than double your money if it can get up. It's really a case of risk versus reward. Go with the favourite, or risk it on the outsider for a better return. There're only two teams in it and anything can happen. Weigh up your options and happy betting.
Bet on the point spread, handicap or line on NCAA basketball
Forget about the head-to-head stuff. It's tough to find value there. The point spread, often known as handicap or line betting, is where it's at if you want to find better bang for your buck.
Any punter worth his salt knows line betting is the most fun and fruitful.
This is where you have to bet on a team which is either given a points handicap or advantage. The favourite will be given a minus handicap, while the outsider will be given a plus.
Bookmakers take in a variety of stipulations when setting lines, such as home court advantage, team records and injury lists.
For example:
| | | |
| --- | --- | --- |
| Michigan (+3.5) ($1.92) | @ | Rutgers (-3.5) ($1.92) |
So Michigan, as the outsider, gets a 3.5 point head start on Rutgers, meaning you can bet on them and still win, even if they lose the game. They just have to lose by three points or less. Conversely, Rutgers must win the game by four or more for you to collect.
There will often also be a stack of alternate handicaps, with odds obviously adjusted to suit the points figure.
Recommended!
Placing margin bets on NCAA college basketball
You'll find that margin betting works as either under 10.5/over 10.5 or 1-10/11+.
All you have to do is decide which team will win and slot them into one of those two brackets.
They either have to do it by 10 points or less, or by 11 or more.
An example of a Margin bet market is:
| | | |
| --- | --- | --- |
| Michigan 1-10 ($3.54) or 11+ ($6) | @ | Rutgers 1-10 ($2.91) or 11+ ($3.10) |
Will the favoured Rutgers blow Michigan away? Take them at 11+. If Michigan can pull off an upset, you wouldn't think it will be by double digits, so the 1-10 is a good way to enhance your head to head bet odds if you think it can cause an upset.
Bookies will also offer alternates here, sometimes 1-10, 11-20, 21-30, 31+, etc. Some will also go up in increments of five.
Total match points over/under betting on the NCAA college basketball
Using the same over-under format, this involves adding the two team's scores together to determine winners and losers.
Bookmakers will set a score, and a punter must decide whether the two teams will score enough points to exceed the bookmakers mark, or fail to achieve it.
Over 119 ($1.92)
Under 119 ($1.92)
Pretty self explanatory here, but, to win, you have to decide whether the total points scored between the two teams will go over 119, or under it.
Plenty of alternates will be on offer here too.

Parlay, accumulator or multi bets on the NCAA college basketball
Think you know college ball?
Want to make big money?
Multi bets are all the rage.
Here's where you take multiple games, select their winners (or lines, or over unders, etc.) and slam them all together in one bet.
The odds multiply by each other.
Let's say you want a three leg multi and you like North Carolina ($1.32) to knock over Wake Forest ($3.55).
The $1.32 is a little skinny, so you need something to bulk the odds.
Let's add in Tulsa at $1.59 to beat Memphis ($2.44) and Denver ($1.61) to defeat Oral Roberts ($2.39).
So it's $1.32 X $1.59 X $1.61 = $3.37
Now that's more bang for your buck.
Three favourites, all good chances to win. Let it ride.
You can get seriously enhanced odds on four, five, six leg multis, but obviously the chances of you winning become more slender with the more legs you add.
Include line bets, total points, and most other markets to further increase the odds.
There are the conservative bettors who like to put several favourites in and then there are those that go for the miracle, with several legs, featuring outsiders and exotics.
Bet a match – total double on NCAA college basketball
This is a combination of two previous bets we've mentioned.
To win this bet, you need to select both the winner of the game and whether the score will go over or under a set margin.
So, using the Michigan Rutgers example:
Michigan – over 119 ($4.30)
Michigan – under 119 ($4.60)
Rutgers – over 119 ($2.89)
Rutgers – under 119 ($3.12)
So pick both the winner and the margin and win big.
What is a tri bet on NCAA College basketball?
The tri bet provides three options on the winning margin
Michigan -7 ($4.15)
Either team wins by 7 or less ($2.28)
Rutgers -7 ($2.37)
So, either team can win, as long as it's by under seven points if you pick option B. But, if you think the winner will be by more than 7, then you have to pick them.
How do I place a bet on first half and second half markets on the NCAA?
Bookies will offer all the markets they offer on the match on both first half and second half.
So they will obviously reduce the handicaps and over – unders, but the principals are essentially the same.
Things like first and second half head to heads, total score, margins and lines, etc will all be on offer.
NCAA props and player props bets
Prop bets have absolutely nothing to do with the results in the match. They often involve things like highest scoring half (first half, second half, tie) or will there be over time (yes? Or no?).
Player props work on how a player will perform. Ie: Will a certain player score over or under 15.5 points in the game?
The same can happen for rebounds and assists.
Props can also pit players head to head with each other in a certain category, as in, who will have more points, player A or player B.
How do I place a live bet on an NCAA game?
Pretty easy here. You're half way through the game, the favourite is down 10, the odds have floated out and you reckon they will come home like a freight train.
Find your bookie, jump on the website and punt away. Bets can usually be placed any time in the game and the odds fluctuate, depending on the scenario at the time.

What futures markets are available on the NCAA?
Only days after one college season finishes, you'll find bookmakers starting to provide futures odds on next year's season.
These are centred on markets like the regular season conference title, conference tournament, and NCAA tournament winner for the next season.
And often it's based on who comes and who goes.
For example, 2014 National Champions UConn lost leading scorer Shabazz Napier to the Miami Heat and DeAndre Daniels also declared for the draft.
So the bookies jumped off a little. And a side like Duke, which is a perennial contender, lost Jabari Parker to Milwaukee, leaving a gaping hole that the bookies jumped off.
Just remember, when you place a futures bet, your money can be tied up for a long time.
Sign up to an online bookmaker and make sure you have several accounts
You obviously need to be signed up with a bookie to lay your bets, but make sure you shop around for odds.
You'd hate to see Michigan at $2.42 with your bookie and find it is $3.20 elsewhere.
Similarly, the lines can fluctuate between bookies. One might have Michigan at +4.5 and another might have them at +6.5. Having multiple betting counts is the easiest way to avoid this type of debacle.
Sign up, get all the bonuses and enjoy.
Know who you're betting on
Injuries can add insult to your punting loss.
Make sure you know who is playing. If a star player sits, that can tip the odds heavily in the opposition's favour. Do your research and make sure you know what is going on with the team you're going to bet on, before you lay your bet.
Bet within your means
Here's the most important part.
Don't punt what you can't afford. Pay the bills, make ends meet and then have a little flutter with the left overs.
Betting is only fun if you can afford to lose.
Remember that.
Recommended!
List of NCAA Championship winners since 1990
| | |
| --- | --- |
| 2014 | Connecticut 60-54 Kentucky |
| 2013 | Louisville 82-76 Michigan |
| 2012 | Kentucky 67-59 Kansas |
| 2011 | Connecticut 53-41 Butler |
| 2010 | Duke 61-59 Butler |
| 2009 | North Carolina 89-72 Michigan State |
| 2008 | Kansas 75-68 (OT) Memphis |
| 2007 | Florida 84-75 Ohio State |
| 2006 | Florida 73-57 UCLA |
| 2005 | North Carolina 75-70 Illinois |
| 2004 | Connecticut 82-73 Georgia Tech |
| 2003 | Syracuse 81-78 Kansas |
| 2002 | Maryland 64-52 Indiana |
| 2001 | Duke 82-72 Arizona |
| 2000 | Michigan State 89-76 Florida |
| 1999 | Connecticut 77-74 Duke |
| 1998 | Kentucky 78-69 Utah |
| 1997 | Arizona 84-79 (OT) Kentucky |
| 1996 | Kentucky Rick Pitino 76-67 Syracuse |
| 1995 | UCLA 89-78 Arkansas |
| 1994 | Arkansas 76-72 Duke |
| 1993 | North Carolina 77-71 Michigan |
| 1992 | Duke 71-51 Michigan |
| 1991 | Duke 72-65 Kansas Indianapolis, Ind. |
| 1990 | UNLV 103-73 Duke |
College basketball's biggest rivalries
Bitter university rivalries often transcend sport, with many alumni hating each other, just because they can.
Here's a look at a few of the best on the basketball court.
Kentucky and Louisville
The Battle for the Bluegrass!
Enough said for any college ball fan.
It's not just on the basketball court, it's every collegiate sport, but it seems the hardwood holds special significance in this rivalry.
Legendary coach Rick Pitino played a role in the rivalry. He coached Kentucky and then took on the Louisville job. The only issue with this rivalry is that they are in different conferences, so you need to see them play it out if they square off in the NCAA Tournament (they do have a deal to play each other once a year).
Michigan and Michigan State
No surprises here at all.
These two cross town rivals hate each other.
With Michigan floundering in the early 2000s, there wasn't much to the basketball rivalry, but Michigan's appearance in the NCAA Tournament in 2009 for the first time since in 11 years, and a visit to the National Championship in 2013 put new sting in tail and made Michigan State stand up and take notice.
Kansas and Kansas State
See above. Two home town universities baying for each other's blood.
This one's called the Sunflower Showdown, after the state flower and features a pair of dynamite Big 12 teams.
The clashes between these two are always fierce.
Duke and North Carolina
A pair of Atlantic Coast Conference powerhouses, these two universities can routinely be found battling it out for supremacy at the top of the ACC.
Their pristine programs attract the cream of the crop, meaning every time they play each other, the best college basketball talent is on display. Lead by legendary coaches Roy Williams and Mike Krzyzewski, it's hard to split these two teams in historical significance.
As we said, though, it's not always about what happens on the floor. These two universities are just a stone's throw away and that can lead to some seriously heated interaction between the two teams' fans.
Syracuse and Georgetown
Disappointingly, Syracuse has moved to the ACC, but that doesn't change the fact that these two colleges were at each others' throats for decades. Both universities shot to prominence in the 1980s and were regularly battling each other for the conference title.
Basketball Guides
NCAA Conferences
America East Conference
American Athletic Conference
Atlantic 10 Conference
Atlantic Coast Conference
Atlantic Sun Conference
Big 12 Conference
Big East Conference
Big Sky Conference
Big South Conference
Big Ten Conference
Big West Conference
Colonial Athletic Association
Conference USA
Horizon League
Ivy League
Metro Atlantic Athletic Conference
Mid-American Conference
Mid-Eastern Athletic Conference
Missouri Valley Conference
Mountain West Conference
Northeast Conference
Ohio Valley Conference
Pacific-12 Conference
Patriot League
Southeastern Conference
Southern Conference
Southland Conference
Southwestern Athletic Conference
Sun Belt Conference
The Summit League
West Coast Conference
Western Athletic Conference
Independent