The best markets to bet on for the UFC Ronda Rousey fight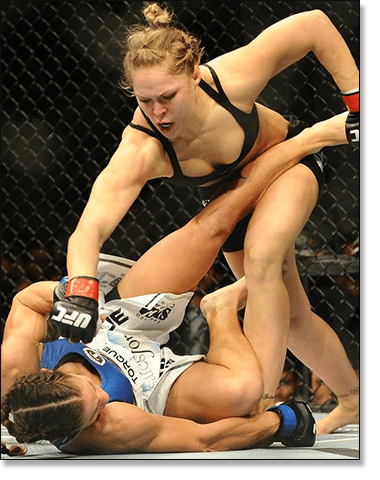 THE fight the UFC world has been waiting for is finally here.
Ronda 'rowdy' Rousey defends her bantamweight title against the undefeated Brazilian Bethe 'the pitbull' Corriea in what is, without question, the most anticipated women's UFC bout in the sport's history.
Both fighters have been outspoken in their distaste for one another, adding extra incentive for both women to maintain their unblemished records in the octagon.
The shots fired in the weeks and months leading up to the Sunday, August 1 showdown in Rio de Janeiro have been unprecedented, which is saying something considering the UFC is a sport that actively encourages trash talking!
The fight, which was confirmed in March of this year, takes place in Correia's home country of Brazil and has the potential to be one of the biggest UFC title matches of the year.
Ultimate Fighting Championship (UFC) women's bantamweight title
Ronda Rousey (11-0)
Bethe Correia (9-0)
Ronda Rousey vs. Bethe Correia fight odds:
Odds courtesy of WilliamHill.com.au
Ronda Rousey – $1.06
Bethe Correia – $8.50
The road to UFC 190:
The ubiquitous Rousey has appeared in movies, on TV shows, WWE events and graced magazine covers in the lead up to the big fight in Rio.
The casual MMA watcher could be forgiven for mistaking Rousey's self-promotion as nonchalance, but her last two fights suggest she could not be in better form going into UFC 190.
April 11 2014, Rousey defended her title against Canadian Alexis Davis, winning the fight via knockout just 16 seconds into the bout.
Rousey's last fight, February 28th 2015 at UFC 182 saw the lady they call 'the arm collector' decimate her opponent in a brutal fashion, forcing American Cat Zingano submit after just 14 seconds.
The win handed the champion her 11th straight win and the record for fastest win in UFC championship history.
Bethe Correia, who does not hold worldwide appeal that the hugely popular Rousey possesses, has been relatively unsighted other than the mandatory UFC media commitments.
The woman they call 'the pitbull' has overcome several big tests in her UFC career, specifically in her last two bouts.
At UFC 172 Correia defeated American Jessamyn Duke by unanimous decision, despite having a significant reach disadvantage.
Her last fight, August 30 2014 at UFC 177, Correia escaped a submission attempt early in the bout to record a TKO victory midway through the second round against American Shayna Baszler.
Both women are undefeated coming into the match up.
Rousey has displayed the ability to win both via submission and as a result of a knock out in her bouts, while Correia has only tasted victory on the back of a points win or via TKO.
Who will win and why:
Winner: Ronda Rousey ($1.06)
Method: Rousey by submission ($1.45 at Sportsbet.com.au)
Total rounds: Under 1.5 ($1.30)
Finally the match up that has been hyped for seemingly the entire year is here, but the question remains: can Correia actually match it with Rousey?
The answer will be revealed on Sunday, but to the keen observer it looms as a no.
'Rowdy' Ronda Rousey has displayed unprecedented dominance throughout her UFC career, and has ended fights in less than 20 seconds in the octagon via submission and TKO.
No one has truly troubled the Bantamweight champion at this stage, which is evidenced by the fact that only one fight in her 11 bout career has gone past the first round.
At the age of 28, Rousey is already considered the greatest female MMA fighter of all time.
Bethe 'the pitbull' Correia may be undefeated and while she holds an impressive record, it does not read as notably as her opponent.
Unlike Rousey, Correia has never finished an opponent in the opening round, with six of her nine bouts going to the judges' scorecards to determine the winner.
While Correia has looked imposing in her last two fights, she does not possess the weapons Rousey does in terms of ending a fight – both the ability to submit and knock out an opponent.
Correia has talked a big game coming into Sunday's bout but when it comes down to fighting in the octagon it is a matter of if not when Rousey ends the fight.
While she intimated she wants to make Correia suffer, a first round finish again looks the most likely.
Expect Ronda Rousey to lock in the arm bar and make Correia tap in the opening round.
What the fighters say
While feuds can sometimes come across as fabricated in the UFC, the lead up to UFC 190 has been truly spiteful.
Neither fighter has been shy in expressing their opinion on the other; with Bethe Correia in particular not mincing her words when speaking about reigning champion Ronda Rousey.
"I want to knock her out, show to everyone that she is a lie." Correia said.
"I want to humiliate her and show the world she has no MMA."
Correia took the trash talk to a whole new level several weeks prior to the fight, with many questioning whether the undefeated Brazilian crossed a line with her comments.
"Under pressure, she is proving weak … She is not mentally healthy, she needs to take care of herself. She is winning, so everybody is around her cheering her up,
"When she realizes she is not everything that she believes she is, I don't know what might happen.
"I hope she does not kill herself later on (laughs)."
Correia took back her comments upon reflection but the damage was done.
Rousey, who lost her father at the age of eight to suicide, made it clear via twitter the woman they call the 'pitbull' stepped out of line.
"Suicide is no joke or selling point. My father will be with me the day I hand you the comeuppance you deserve." Rousey tweeted.
Ronda Rousey was much more measured in her comments to the media regarding her opponent.
Comparing herself to Sylvester Stallone's Rocky, Rousey believes she can draw inspiration from the heroics of the Italian Stallion.
"There is this young, up-and-coming Brazilian chick with an undefeated record that beat two of my friends and has been trying to rub it in my face." Rousey said.
"I want to go and fight her in Brazil and beat her in her hometown.
"That would be the best way I could really feel like I've vindicated my friends, to go to her hometown and beat her in her hometown and be total Rocky IV on it."
Rousey's unblemished record is untouchable across all divisions, weight classes and both genders in the UFC, and she had an ominious message for Corriea heading into Sunday.
"If I beat you quickly, that's me at my nicest and most merciful," Rousey said.
"That means you get to go home unscathed with a paycheck. If I make the fight last longer, that means I don't like you and I want you to go home looking different than the way you walked in.
"I don't like this chick."
Other fights on UFC 190:
Guido Cannetti ($3.30) vs. Hugo Viana ($1.32)
Vitor Miranda ($2.15) vs. Clint Hester ($1.32)
Leandro Issa ($2.75) vs. Iuri Alcantara ($1.43)
Nordine Taleb ($2.70) vs. Warlley Alves ($1.43)
Rafael Cavalcante ($2.20) vs. Patrick Cummins ($1.65)
Neil Magny ($2.30) vs. Demien Maia ($1.60)
Jessica Aguilar ($3.95) vs. Claudia Gadelha ($1.24)
Antonio Silva ($2.45) vs. Soa Palelei ($1.53)
Stefan Struve ($1.53) vs. Minotauro Nogueira ($2.50)
Reginaldo Vieira ($3.20) vs. Dileno Lopez ($1.32)
Giaico Franca ($1.60) vs. Frenando Bruno ($2.30)
Antonio Rogerio Nogueira ($2.45) vs. Mauricio Rua ($1.53)
Join the Betting Planet team!
Are you passionate about sports betting? Tipsters and news writers required TODAY!
Experienced preferred but not essential. (All apps considered).
View Careers at Race Media
Top Online Casinos
Bitcoin Friendly

100% up to $3000
Sports Betting Guides
Casino Games
Deposits & Withdrawals
Football
Basketball
Top Country Betting sites