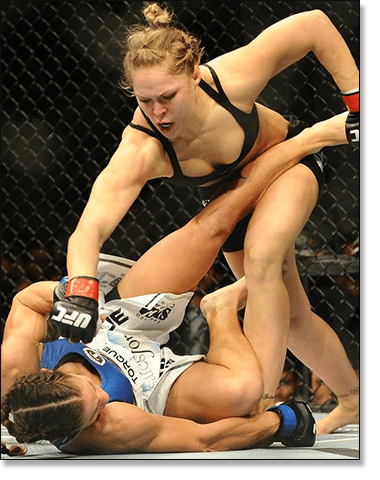 Ronda Rousey was the inaugural UFC Women's Bantamweight Champion, but to pigeon hole her in that category would be to greatly sell Rousey short. Ronda "Rowdy" Rousey is growing to be one of the most dominant, popular and polarising women in international sport. Her rise to fame has been a long road that has left her with a medal cabinet bursting at the seams.
Her list of achievements is a mile long, with gold medals in the 2004 and 2005 Pan American Judo Championships and the 2007 Pan American Games, silver medals in the 2006 Pan American Judo Championships and the 2007 World Championships and bronze at the 2007 Pan American Judo Championships and in Judo at the 2008 Beijing Olympics.
It may be easy for anyone to rest on their laurels as a fourth dan black belt Judo champion, but not Rousey.
In 2010 she made her Mixed Martial Arts debut. In 2013 Rousey made her UFC debut and hasn't looked back. Rousey's MMA record at the end of 2014 was 10 wins from 10 starts, eight by submission from arm-bar, one TKO and a first round, 16-second knockout of Alexis Davis.
Despite all of these achievements, Rousey has also found time in her hectic schedule to model regularly and appear in three movies; Expendables 3, Entourage and Furious 7. In this guide we give a few tips on how to bet on the UFC's most dominant female force.
Betting on Ronda Rousey
Given Rousey's 10-0 MMA/UFC record by the end of 2014, you'd expect her to start mot fights as the out and out favourite, and so you're assuming a relatively safe bet if you have a punt on her in the head-to-head betting markets.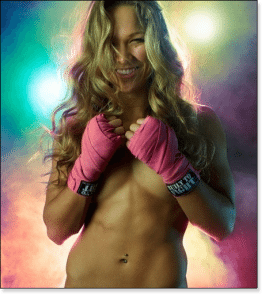 Having said that, it would also be safe to assume that Rousey's odds would be shorter than Game of Thrones star Peter Dinklage with such an illustrious fighting history, so you would have to weigh up whether you can actually milk some value simply betting on her head-to-head.
Of her 10 MMA/UFC starts come the end of 2014, Rousey won nine in the first round with the odd one out being a third round victory against Miesha Tate in UFC 168. On this form, throwing a wager on Rousey to take down her opponent in the first round would be a smart move.
Eight of those 10 victories were by submission. However, Rousey is slowly beginning to make a name for herself as a bit of a striker. That buzz was bolstered after Rousey knocked out Alexis Davis in her latest victory in UFC 175. Despite that, given her judo prowess, it might be a wise punt to back Rousey to close out her next fight with a submission.
UFC Betting Options
The grandiosity and importance of each fight often dictates how many betting markets are available.
Head-to-head
Head-to-head action is available on every bout: this is a two-way bet on either brawler to win the fight. The odds are adjusted to reflect who is thought to be more likely to win (the favourite at shorter/lower odds, the underdog at longer odds).
Round bets
You can also bet on which round the fight will end with a regulation bout lasting three rounds and championship bouts lasting five rounds. Depending on the bout and who is fighting, you can place a bet on round one to five with odds typically ranging from $1.50 up to $15.
Method of victory
Method of victory is a popular bet among UFC punters. This is almost a combined bet. With a method of victory wager you are betting on who will win the fight and how they will win. For example:
Ronda Rousey by KO – $2.50
Ronda Rousey by submission – $2.70
Ronda Rousey on points – $9.00
How the fight will end
Not sure you can be precise enough to guess who will win the fight and how? Then have a punt on simply how the fight will end, without specifically selecting who will be victorious. This is a much broader bet with three options: will the fight end by KO, submission or points. Odds will vary depending on who is fighting.
Where to bet on UFC Fighters
Bovada.com is your one stop online gambling destination for UFC punters – it offers poker, an online casino and a sports bookmaker with great odds.