NCAA Football Championship
BETTING on the NCAA Championship has never been more popular since the introduction of the playoff system in 2014.
Now with two semi-finals and a final, the three games involved in the championship have attracted not only the college bettors, but your everyday gamblers are now getting involved in betting the NCAA Championship.
Betting on the NCAA Football Championship
With the new NCAA Football format, there are now two semi-final games which encompass both the Sugar Bowl and the Rose Bowl. In past years, a selection committee have selected the best two teams, but from now on the top four teams will be selected to play in two semi-final games.
The amount of betting options available are endless, with over 42 markets open on both semi-final games, including the popular spread lines, over/under and first touchdown scorer markets.
Some of the exotic betting types available include:
Total Points
Bettors have to correctly predict how many points will be scored within a certain range. These include 0-20, 21-30, 31-40, 41-50, 51-60, 61-70 and 71+ which usually pays around +310.

The 0-20 points market is a very rare outcome but pays +2500 so many punters are enticed by the large payout in the hopes that the game becomes defensive and/or the weather plays its part.

Game to go to overtime
A simple bet of whether or not a game will go into overtime. Many NCAA Championship games are very close, as most Bowl games are scheduled due to comparing records, and the 'yes' option can be lucrative. The 'yes' usually sits around +1100 with the no at -2200. There is very little value with the 'no' option and there are some smart punters who get great value betting the 'yes'.
Team to score first
This option is self explanatory, punters simply bet on which team they think will score first. It often depends on who wins the toss and receives the ball first, but usually the heavily favored team is the favorite to score first. A -9.5 favorite sits around the -165 mark to score first where the outsider is usually around the +125-130 mark. This is a betting option for punters who want a quick outcome and is popular among bowl bettors.
Special Team or Defensive Touchdown scored
A very popular option for exotic bettors. The -110 for 'yes' is a trending bet with punters as there is usually a good chance of a special team or defensive touchdown. Kickoff returns have been made harder by the new safety rules but there are plenty of opportunities for this bet to succeed and this bet will remain popular.
Semi-Final #1 – Oregon vs. Florida State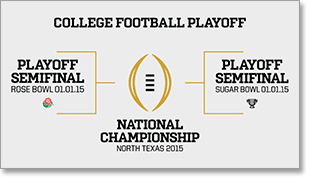 The first semi-final of the NCAA Football Championship is the Rose Bowl as Pasadena, California. The #2 ranked Oregon Ducks, along with their Heisman Trophy winning quarterback Marcus Mariota, are favorites to beat defending champions Florida State, who have now gone two seasons undefeated heading into this matchup.
Oregon have been winning their games with distinct ease whereas Florida State have had to pull everything out of their bag of tricks to win, but this semi-final promises to be a classic quarterback fight between two Heisman Trophy winners. The Rose Bowl is the best and most famous arena in college football and these two teams will do it justice come January.
Odds:

Oregon @ -340
Florida State @ +270

Spread betting:

Oregon +9.5 @ -110
Florida State -9.5 @ -110

Over/Under:

Over 71 @ -110
Under 71 @ -110
Semi-Final #2 – Alabama vs. Ohio State
The Sugar Bowl features the #1 ranked Alabama vs. Ohio State, which is one of the three teams fighting to make it into the playoff system. Alabama has looked impressive all season, barring their one loss, and their form heading into the playoffs was outstanding.
Ohio State were forced to use their third-stringed quarterback but still held Wisconsin to 0 points in their final game, earning them a spot in the final-four.
The Sugar Bowl takes place in New Orleans, Louisiana which will certainly favor Alabama and their odds reflect this. Similar to Game 1 of the playoffs, Alabama are -9.5 favorites to beat Ohio State.
Odds:

Alabama @ -360
Ohio State @ +280

Spread betting:

Alabama -9.5 @ -110
Ohio State +9.5 @ +110

Over/Under:

Over 58.5 @ -110
Under 58.5 @ -110
The National Championship game is held two weeks later at AT&T Stadium in Texas at 8:30pm where the winners of each semi-final play off for the 2014/2015 NCAA Football Championship title.
Popular Bowl Games to bet on
Cotton Bowl – #8 Michigan State vs. #5 Baylor
Michigan State (+130/+3 points) – Baylor (-150/-3 points)
Orange Bowl – #7 Mississippi State vs. #12 Georgia Tech Yellow Jackets
Mississippi State (-250/-6.5 points) – Georgia Tech (+210/+6.5 points)
Peach Bowl – #9 Ole Miss vs. #6 TCU
Ole Miss (+140/+3.5 points) – TCU (-160/-3.5 points)
There are an abundance of Bowl Games to bet on over the December/January period. Bowl games start on December 21 and continue right through to the NCAA Championship on January 12.