Bodog Sports bookmaker review



Players from United States not accepted
Restricted Countries
USA
United Kingdom
Australia
China
Thailand
Malaysia
Accepted Currencies
Website: www.Bodog.eu
Established: 1994
Countries: Canada, UK, Europe
Support: Live chat at the website
Email: Online form
Phone: 1-877-263-6422
Bonus: First deposit bonus – up to $100
BODOG is Canada's preeminent online bookmaker and one of the most recognisable gambling websites in the country.
Based in Antigua, Bodog has existed for Canadian players since 2009 and is not available for punters in the UK or USA, but Americans will recognise the layout as it is identical to Bovada.lv.
Given that Bodog is very similar to Bovada, many punters will have seen the interface that is on offer, but there are some subtle differences between the sites that we will point out in our article.
An incredible amount of money has been spent promoting the site throughout Canada, but is the money better spent on the site itself? Read through the remainder of our article and find out.
---
Bodog website layout and interface
Bodog's site uses black as its main colour, while using green and grey as its secondary colours for menus and fonts on the site.
It is a definite change on what we are used to seeing, but it is not necessarily a good thing given sometimes the green on grey can make it difficult to see on a low contrast monitor.
The site itself is simple to navigate.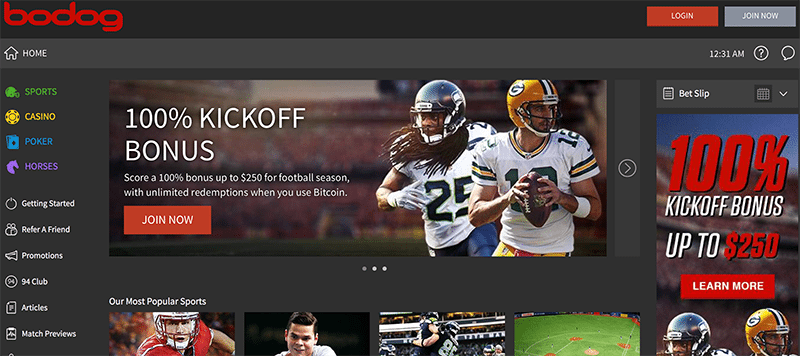 On the left hand side of the site all the popular sports that Bodog offer are listed in order of probable
popularity, and clicking on any of these will move your sport of choice to the middle of the screen.
One annoyance that we found at Bodog was the fact that clicking on live-betting opened a new window rather than taking the middle section of the site, but some users may find that a desirable trait.
A feature the site does well is the help and contact us section, which do not occupy too much space at the top of the page but are very easy to find and self-explanatory for punters looking for some guidance.
One big plus is that Bodog offers their clients markets on American and Australian races, a feature that not all bookmakers can boast.
While the markets for the options they have provided are plentiful, Bodog's sport portofolio seriously lacks depth compared to other online bookmakers who offer a multitude of different sports.
Sports available to bet on at Bodog:
Football
Baseball
Soccer
Tennis
Basketball
UFC/MMA
Golf
Hockey
Cricket
Boxing
Horse Racing Futures and Props
E-Sports
Politics
Rugby League
Rugby Union
Snooker
Aussie Rules
Handball
Table tennis
Entertainment
---
Mobile betting at Bodog
As if September of 2016, Bodog does not offer an application for cell phone users to download, but the mobile version of their site is just as impressive as any app on the market.
All the features from the site are as simple to use as they are on the site, and all the favourited options such as the most popular sports and live betting are easily found on the mobile site.
Everything is compact on the mobile site. Bodog utilises a drop down menu for all their sports which opens up once a user touches the option.
Some users may fell short-changed by the lack of a downloadable app, but the mobile site is more than adequate for punters who want to wager on the go.
---
Sign up promotion at Bodog
Bodog offers a fantastic bonus for customers in celebration of a new account.
The company offers a 100 per cent bonus on any deposit up to the value of $100, which is awarded as soon as you have the amount placed into your account.
---
Deposit and Withdrawal methods at Bodog
Given Bodog is not as big of a bookmaker as others in the marketplace, they do not offer the wide range of deposit options that others can offer.
However, this does not mean that the normal methods of deposit do not exist to them, as deposits at Bodog can be made by Bitcoin, Credit Card and Interac e-Transfer.
The withdrawal process is a little trickier compared to other sites.
Bodog payouts are done with your choice of paper check by courier or wire transfer.
When getting payouts by check the first one each month is free.
The maximum issued per check is however $3,000, and any checks sent thereafter in the month period incur a $50 fee.
When requesting a wire transfer payout the limit is $9,500 per transfer.
The processing time is 5-10 business days and each cost $50. You can request a higher amount but it will be split into multiple wires with each one coming in 10-12 business days and each incurring a $50 fee.
---
Customer Service
Bodog is a bookmaker for Canadians by Canadians, and the affable nature of the countrymen has been utilised in their clientele interaction.
The great thing about their customer service is the fact that it is a 24/7 styled assistance, which means you will never be left out in the cold with an unanswered question.
One feature we would like to see implemented in the near feature is a live-chat section, but given they offer a 24 hour phone service we cannot be too harsh on Bodog.

Bodog is an entertainment brand focused on online gambling services in multiple countries and is arguably one of the most well known online casino and online poker groups in the world. This article delves into the many brands falling under the Bodog brand, as well as the history of the company and its relation to Bovada.
---
About Bodog

Bodog was founded by Canadian entrepreneur Calvin Ayre, who laid the ground work for his future billion dollar company way back in 1994. Ayre recognised the growing importance of the Internet and saw that gambling was essentially tailor made for the digital platform. Experienced in coding and network design, he established Bodog to be a software support firm for established online gambling sites at the time, licensing his work to businesses for significant bank. Eventually, Ayre used his designs to establish his own online casino, poker and sportsbook operation, Bodog.com by the year 2000 to primarily service the rapidly growing United States Internet gambling market and its many demands.
Because Ayre created and owned the source code of his proprietary online gambling software, he was able to improve upon it and differentiate his Bodog brand from the other big casino and sportsbook sites he originally licensed his work to, and position the brand at the top of the game for the majority of the early 2000s. He also used his billionaire lifestyle and controversial playboy image, largely driven by media outlets who hounded him following his 2006 Forbes Magazine Billionaires edition cover story, to further popularise the Bodog brand.
The Bodog brand is still globally recognised as one of the biggest powerhouses in online gambling today, but its business model was forced to significantly change and adapt to strict online gambling laws introduced in the United States in 2006. The Unlawful Internet Gaming Enforcement Act (UIGEA) banned American financial institutions from processing payments related to online gambling in any form, and Bodog.com was one of the many Internet-based casino, racing and sports betting sites catering to players from the USA that was caught up in the storm it caused.
---
Bodog re-brands and Bovada is founded
Due to the strict new gambling legislation, Ayre sold the Bodog.com domain to Morris Mohawk Gaming Group (MMGG) and ceased using the Bodog brand in the United States market. Soon afterwards in 2007, a US federal court seized the domain and awarded it to 1st Technology, a company that had sued Bodog in the past for software infringement. MMGG settled the dispute in 2009 and reclaimed the domain and because they are a private company based in Kahnawake in Quebec, Canada, they would continue to accept US customers with its newly bought Bodog.com rights until 2011, when it re-branded the US-based online casino and sportsbook into the Bovada brand, transferring all of its existing players there to avoid further legal hurdles.


In 2012, the US government seized the vacant Bodog.com domain based on charges related to offering illegal gambling activities to US residents; however, because the domain's servers were owned, licensed and running in Antigua, the World Trade Organisation ruled subsequent lawsuits from various American state litigators as null due to Antigua and Barbuda's right to offer online gambling services to US citizens – a continuing argument worth millions of dollars which has been back-and-forth since an earlier 2003 ruling, when the US cracked down on several Antiguan and Barbudan gambling operations despite being out of American jurisdiction and the twin island nation successfully called upon the WTO to deem the US's involvement illegal (they won).
---
Best Bodog online casinos and sportsbooks in 2017
Today, Bodog.eu the Bodog Poker Network and several more Internet gambling operations cater to players from multiple regions in East Asia and Canada, with all of its US-based online casinos and sportsbooks operating under the Bovada brand. Ayre does not run the sites directly but instead licenses the Bodog brand to other operators and networks.
Bodog.eu
Online casino (Canadian players)
Bodog88.com
Comes under the 'Bodog Asia' umbrella, has online casino, poker, racing and sports (East Asia players)
Bodog99.com
Comes under the 'Bodog Asia' umbrella, has online casino, live dealer, poker (East Asia players)
Bovada.lv
Online casino, poker, racing and sports (North American players)
Horses.bodog.eu
Online horse racing sportsbook (Canadian players)
Poker.bodog.eu
Online poker network (Canadian players)
Sports.bodog.eu
Online sportsbook (Canadian players)
---
Other sites related to the Bodog brand
The owners of the Bodog brand and all of its sites also have other closely-related online gambling sites using Bodog Custom software similar to what's used on Bodog.eu and Bovada.lv. Despite the similarities, they are separate brands, similar to how Bovada operates yet is still closely associated with Bodog.
JoeFortune.com – Online casino, poker, racing and sports (Australian players)
Slots.com – Bitcoin mobile-only casino site (Multiple regions)
Slots.lv – Online casino (North American players)
---
Is Bodog safe and licensed?
Despite its turbulent history in regards to the United States laws shake-up in 2006, Bodog's multiple regional casino and sportsbooks brands have stellar reputations and are safe and trustworthy sites to gamble real money online on computer or mobile. Depending on the region it caters to, Bodog is licensed by multiple reputable advanced gaming jurisdictions, including the Antigua and Barbuda Financial Services Regulatory Commission's Directorate of Offshore Gaming for Bodog.eu, the Kahnawake Gaming Commission for Bovada.lv, and Curaçao eGaming for the Bodog Asia brands (Bodog88.com and Bodog99.com). All of the Bodog-branded and associated betting and casino sites are legally licensed and regulated, and in the case of the Bovada brand which caters to US players, based offshore and thus adhering to foreign jurisdiction legislation instead of breaking America's present day strict online gambling laws.
To play at our recommended Bodog and Bovada betting sites, click on any of our links listed in the content or tables above for exclusive welcome bonuses upon sign-up, including $3000 matched deposit welcome bonuses at Bovada.lv.
---
Final verdict
Bodog has made a huge effort to take control of the online sports betting marketplace in Canada and they seem to be making an impression.
However, there are glaring issues we have that make it hard to recommend their service ahead of other bookmakers.
The lack of sports betting markets when compared to others is shallow, the withdrawal process can be costly if clients are looking to make multiple withdraws in a month and the lay out of the site is at times hard to look at.
We would also like to see the implantation of a live chat feature, but as it stands an email and phone combination that runs 24/7 is adequate.
Bodog is by no means perfect, but it is a more than acceptable avenue for punters to try if they are looking for a different experience from their bookmaker.