Top sports betting sites in Michigan 2022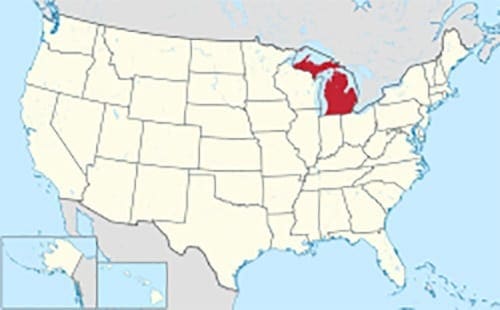 Michigan sports betting sites are expected to go live at the start of 2021, with the online betting industry approved and ready to go in the Great Lake State. Basically MI online betting sites are just waiting on approval from the Michigan Gaming Control Board, but with the covid pandemic it is taking slightly longer than hoped. Michigan online sportsbooks are now likely to be live by February 2021, which will breath new life into a flagging local economy.
---
MI expected betting sites
Michigan is expected to be like other US states when it comes to online betting, with many of the biggest names in world sport to launch here. The best MI betting sites will include brands like DraftKings and FanDuel, while international raiders like William Hill and Pointsbet will also acquire licences. Our top betting sites for Michigan in 2021 are:
DraftKings
FanDuel
FoxBet
William Hill
PointsBet
Barstool Sports
---
Michigan online betting & gambling introduction
Michigan gives their residents many gambling options and there was also a law repealed that allowed to take out all forms of prosecution for players that gamble online.
The state has tribal casinos, as well as a few big ones in Detroit, that offer slots, video slots, table games, and poker.
Horse racing is legal in the state and while sports gambling is not at the moment that may change very soon. There are also many options for Michigan residents to gamble online since there is no penalty for doing so.
Online there is no lack of sportsbooks, racebooks, casinos, and poker rooms to lay wagers at. Most of them will also accepts wagers from United States residents.
MORE INFO: USA BETTING GUIDE
Sports Betting in Michigan


Best Kentucky sportsbooks
As of mid-July sports betting is not legal in the state of Michigan.
However, the Professional and Amateur Sports Protection Act was overturned by the Supreme Court, which paves the way for states to legalize sports betting.
Taxing and regulation of sports betting would be done by the state and since the law is not a federal one gambling is legal on a state-to-state basis. Back in 2017 there was a bill on the table to legalize sports betting in the casinos in the state, but nothing ever came of it. Still, with the recent overturning of the federal law sports betting in Michigan is not far off.
In 2000 a public act was adopted, which took out any reference to online gambling. This means all online sportsbooks that accept wagers from U.S. residents can take them from Michigan with no legal repercussion to the book or the bettor.
Online sportsbooks for Michigan
There are a lot of sportsbooks online today that are legitimate and reputable and will take bets from Michigan residents.
The law is lax, so the people of the state have options when choosing a book to wager at, but that is not always the easiest choice to make. With the many books out there you have to pick the one that is right for you and your specific sports betting needs. It is advantageous to do some research beforehand to choose the right online sportsbook for you.
The things a solid sportsbook should offer you are great player security, banking options, many bet types and sports to bet on, 24/7 customer service and bonuses and promotions.
Live Chat is a good option to have in terms of customer service and for bonuses and promotions check out what you have to do to get them, meaning gambling requirements that must be met.
Let's take a look at three reputable sportsbooks online that accepts wagers from U.S. residents.
Recommended!

---
Betting on horse racing in Michigan
In Michigan Horse racing is legal and there are several tracks around the state.
Hazel Park Raceway was established in 1949 and they not only have live racing, but simulcast racing as well. Some of the other racetracks in Michigan include Pinnacle Race Course, Northville Downs, Mount Pleasant Meadows, and Sports Creek Raceway.
While the tracks offer many races, especially simulcast ones, and betting options there are many more online with all the racetracks to lay wagers at. Most of the racetracks online today are legit, offer races from all over the world and at the biggest tracks, and also have a much wider variety of bets and stakes to offer.
Many of the top racebooks will also offer more bets and bonuses and promotions for the bigger races such as the three in the Triple Crown, especially the Kentucky Derby.
---
Online Poker in Michigan
There are many poker options for Michigan residents, especially when it comes to the many 24/7 poker rooms at the larger casinos in Detroit. There are over a dozen tribal casinos in the state and they all have poker rooms. Still, with the many land based options playing at poker rooms online still give people the most options for the game. Not only are there more games available in all of the variations of it, but also many tournaments and stakes as well.
---
Online Gambling Laws in Michigan
In 1996 the Michigan Gaming Control and Revenue Act was passed allowing for major casinos to be built in Detroit. Three years earlier the law was passed for tribal casinos to be legal and both they and Detroit area casinos have expanded in recent years.
In 1999 Michigan adopted SB 562 that took aim at online gambling, but in 2000 the Michigan adopted Public Act 185 was passed, which wiped out that language allowing residents to gamble online with no legal actions against them. The Michigan Horse Racing Commission regulates and oversees horse racing in the state.
In 2019 Governor Gretchen Whitmer signed legislation which made sports betting legal, with it allowing for mobile sports betting and retail betting at various locations in the state. This means that online betting companies will be free to operate in Michigan from the start of 2021, or whenever the Michigan Gaming Control Board give it the green light.
This means that like New Jersey (NJ betting sites), PA betting sitesvania (PA betting sites) and other US states, Michigan residents will be able to bet with legal online sportsbooks.
Like retail gambling venues, online sports betting sites will require their customers to be 18 years or older, in accordance with Michigan laws.